LOUISVILLE, Ky. (WDRB) -- State officials are in the final round of screening 700 inmates for early release amid an uptick in COVID-19 cases at prisons around Kentucky. 
Gov. Andy Beshear said Wednesday the criteria for commutation will remain the same as the state's first round of commutations, which officials said saw 1,200 inmates released. 
Eligible inmates include those serving Class C and D felonies who were not convicted of violent or sex-related crimes. The governor also said the state is again targeting inmates with "serious medical conditions" who may be at a higher risk of severe COVID-19 symptoms. Many eligible inmates have "a relatively small amount of time remaining" on their sentences, Beshear added.
In the past, state officials have screened inmates for COVID-19 before release and also ensured they have a residence where they can be quarantined.
There are currently 379 active COVID-19 cases among inmates and 53 active cases among prison staff, according to J. Michael Brown, secretary of Beshear's executive cabinet. Nine inmates, all from the Kentucky State Reformatory (KSR), are currently hospitalized with the virus, and eight inmates, including a 37-year-old from KSR, have died after contracting the respiratory disease, Brown said Wednesday. 
In total, 811 inmates and 122 staff members have tested positive, according to Brown. 
Wednesday's report shows an uptick from the 624 inmate cases, 83 staff cases and four virus-related deaths officials reported July 14. Brown said 423 inmates and 69 staff members have recovered from the virus over the past two weeks. 
Brown said state officials in the coming weeks will be keeping a close eye on outbreaks at KSR in La Grange, Kentucky, and KY Correctional Institution for Women (KCIW) in Shelby County. 
KSR saw a jump in 141 cases among inmates (190 total) and 12 among staff (18 total) since July 14. Four KSR inmates have died after contracting COVID-19, Brown said. 
"That's a place we're going to have to monitor carefully," Brown added. 
KCIW, meanwhile, saw a 29-case increase among inmates (236 total) and a 22-case increase among staff (31 total) over the past two weeks. The facility in June conducted full-scale testing of more than 600 inmates and more than 200 staffers after 14 cases of COVID-19 had been identified.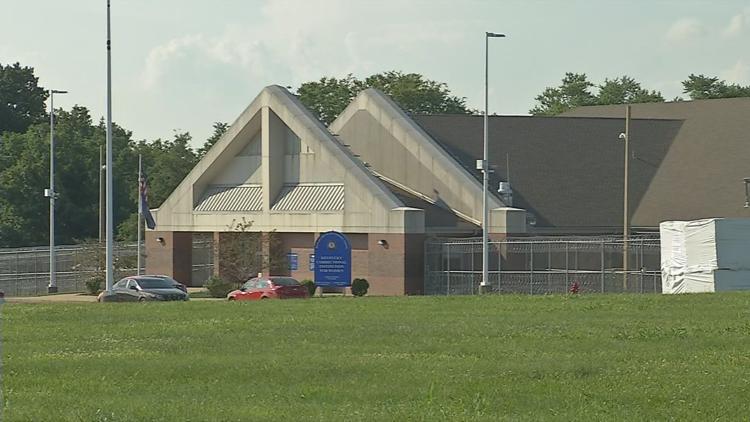 Beshear said the state is "putting significant resources toward" addressing the prison outbreaks and will use the handling of an outbreak of more than 300 cases at the Green River Correctional Complex in western Kentucky as guidance. 
Every inmate at Green River was tested for the virus, and the prison used one building to house inmates who tested positive. Another was used for those who have tested negative but had come into contact with those who have contracted COVID-19, and a third building housed inmates who with underlying conditions that made them susceptible to the virus.
The rest of the prison population was separated in a fourth building.
"Get everybody tested, sort them out, do the monitoring," Beshear said, "and we believe it can and will stabilize once we go through that." 
619 new cases, 5 additional deaths reported Wednesday
State health officials have identified 619 new COVID-19 cases in Kentucky on Wednesday, Beshear said. 
Wednesday's report is a slight increase from the past two days — 522 cases on Monday and 532 on Tuesday. The state's positivity rate, or the share of tests that come back positive, has also increased to 5.81%. Still, the governor said the state is "on track to be relatively stable as compared to last week's numbers." 
The 619 new cases were identified out of more than 10,000 newly processed coronavirus tests, Beshear said. To date, the state has processed 609,989 total tests. 
Seventeen children under 5 years old, including a 4-month-old, are among the new infections reported Wednesday, according to Beshear. 
According to a report from Kentucky Public Health, 571 Kentuckians are hospitalized with COVID-19, and 112 patients are being treated for the respiratory in intensive care units. 
Five more Kentuckians, including a 77-year-old from Jefferson County, have died after contracting COVID-19, Beshear said. The state's virus-related death toll stands at 724 as of Wednesday. 
Beshear applauded healthcare workers' efforts in getting the state's virus mortality rate down from 3% to about 2.5% but warned Kentuckians of high death counts following weeks of record case numbers. 
"If we're having 600 cases a day, 2.5% starts adding up pretty fast," Beshear said. 
At least 7,495 Kentuckians have recovered from the virus. 
Related Stories: 
Copyright 2020 WDRB Media. All Rights Reserved.