LOUISVILLE, Ky. (WDRB) -- Slowly but surely, chicken wing lovers are returning to The Back Door in Louisville. There, the fan favorite delicacy is tossed in crushed cloves of garlic and buttery buffalo sauce.
"I mean, the taste of it is just completely different," said Jeff, a worker at the bar and grill, as he prepared a steady stream of orders Monday.
Although business has been gaining momentum lately, both Jeff and John Dant, the owner of the restaurant, agree it's not great.
"It's not the same," Dant said.
The Back Door's owner says the curfew and capacity restrictions, still placed on Kentucky businesses like his as mechanisms to slow the spread of COVID-19, are still being felt daily.
"We keep a headcount, so you know, a couple weekends — we do get busy enough that we do have to turn people away," Dant said.
Dant was hopeful Monday after he heard rumor that Gov. Andy Beshear would lessen the restrictions impacting Kentucky's businesses. The governor did not lift the restrictions but did announce an exit strategy.
"This ought to be exciting," Beshear said during his afternoon news conference.
Beshear launched what he dubbed "the Team Kentucky Vaccination Challenge." As COVID-19 variants spread in other parts of the country, Beshear said he'd be comfortable lifting the restrictions in Kentucky when the state vaccinates 2.5 million people.
Right now, 1,558,463 have been vaccinated, which means the state is about 940,000 people shy of the goal.
Beshear estimates that the goal can be reached in four to six weeks, if Kentuckians continue to be vaccinated.
"Once we get the first 2.5 million Kentuckians vaccinated, we will remove capacity restrictions for venues, events and businesses that hold 1,000 or fewer patrons," Beshear said.
Related: Kentucky likely '4 to 6 weeks' from lifting restrictions, as Cardinal Stadium vaccine site opens
Dant said Beshear's decision is another setback for the restaurants and bars, event spaces, funeral homes, museums and other businesses constricted by the restrictions.
"Under his leadership, we might not ever open back up fully," a frustrated Dant said. "What's it going to be next? Well, we need 4 million. You know, when is it going to stop?"
Voicing similar frustration, the Kentucky Freedom Coalition scheduled a protest for Wednesday at the Kentucky state Capitol. The group tweeted that the governor's announcement treats businesses like hostages.
"Not sure about about you, but we're not too keen on hostage negotiations," the group quipped.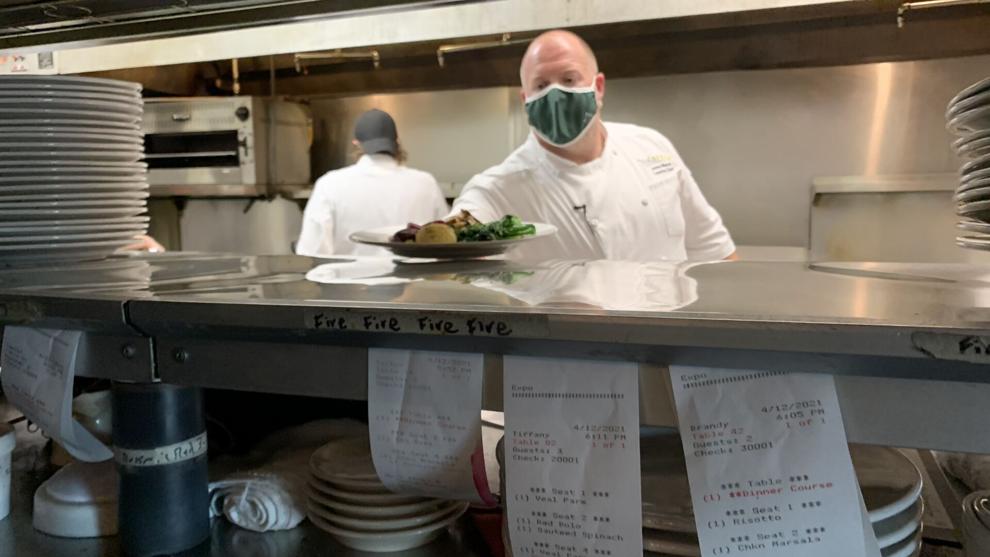 But at Volare Italian Ristorante on Frankfort Avenue, Joshua Moore, the executive chef and managing partner, is more optimistic.
"We're just excited to see light at the end of the tunnel and get on the other side of it," he said.
Even though he still has to turn some diners away during busy weekend dinner services — because of the capacity restrictions — he imagines a day when that will change when enough people are vaccinated to lift restrictions entirely.
"Every restaurateur is going to be so, you know, overwhelmed to see full restaurants again," he said.
Monday, Beshear said the caution is warranted as COVID-19 variants spread in other parts of the country.
"We must know that the crisis is not over," he said. "While we have had so many weeks of decline, we, just like many other states, are plateauing. Most plateaued long before us. At least four are starting to see dramatic increases."
Beshear said that thousands of vaccine appointments are available this week across the state, including many at the new mass vaccination site in Louisville. 
Copyright 2021 WDRB Media. All Rights Reserved.