LOUISVILLE, Ky. (WDRB) — A man who visited a pop-up coronavirus testing site in Louisville is looking for clarity after receiving phone calls and emails that said he has tested positive for COVID-19.
"I'd like to get some kind of confirmation because I've got two small kids here with asthma," said Roger Craft of west Louisville, who was tested for COVID-19 on Monday at a pop-up testing site outside of Sojourn Church at 1207 S. Shelby Street. Craft, 52, has no idea if the test was legitimate after city leaders raised red flags about pop-up testing sites, including another location at 17th and West Broadway.
On Saturday, Craft received an email that said he tested positive for COVID-19. He said a woman also called him from a Colorado area code with results from a lab in California.
"They said it was a doctor and they had the results on the test from Sojourn, because that's where I went to," Craft said. "(They said to) quarantine because my test was positive ... if I get too out of breath, call 911 and tell them my whole situation."
A spokesperson for the Louisville Metro Public Health Department said the group from outside Sojourn is now properly reporting COVID-19 test results, but the accuracy of the tests is unknown.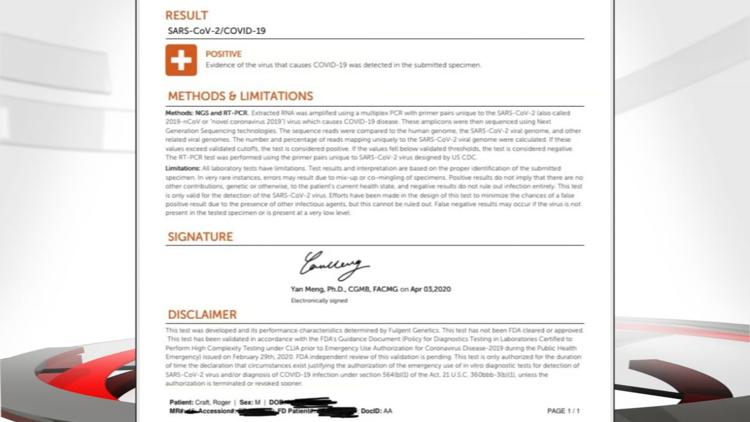 "The results don't necessarily mean they're actual real results because the people that were administering the tests didn't always change their gloves between each individual being tested," Metro Council President David James said. "The tests could very well be contaminated."
James has been looking for scam testing sites popping up around west Louisville and confronted workers dressed in personal protective equipment at the 17th and Broadway site on Wednesday. He accused the organizers of the pop-up sites of stealing money and personal information to make fake medicare and medicaid claims. 
"Just because you have a positive result (from a pop-up site) doesn't meant that it's truly positive," James said. "But, if you did get a positive result, I would suggest you do what the governor and mayor and everybody has been saying."
That means to stay in the house, self-quarantine for 14 days, and call your doctor. Leave the testing to local hospitals, James said.
WDRB News could not get in contact with anyone involved with the pop-up testing outside of Sojourn Church and could not get in contact with anyone through the phone number provided to Craft. 
"If those people are playing," Craft said, "it's a cruel joke."
Health officials said anyone with positive results from a pop-up site should call their healthcare provider. Those who do not have a family doctor should contact their nearest Louisville Family Health Care Center.
Related Stories:
Copyright 2020 WDRB Media. All Rights Reserved.