Warning: The body camera video below may be disturbing to some viewers.
 LOUISVILLE, Ky. (WDRB) — The Jefferson County Coroner's Office has identified the man who was shot and killed by Louisville Metro Police officers Thursday night after firing shots inside the store. 
Shelby Gazaway, 32, was shot and killed by LMPD officers Patrick Norton and Alex Dugan around 6:20 p.m. Thursday in front of a Kroger at 520 N. 35th St., according to a release from the coroner's office. 
According to previous reporting, MetroSafe dispatchers received a report of multiple gunshots fired inside the Kroger around 6:05 p.m. Thursday. When Norton and Dugan arrived, they said a witness who was running out of the store gave them a description of the shooter, now identified as Gazaway. Police said they then saw Gazaway, wearing a red hooded sweatshirt, walk out of the front entrance.
At that point, police said Gazaway turned toward Norton and Dugan and fired several shots. That's when the two officers opened fire and the suspect was hit. LMPD Maj. Jamey Schwab said first responders attempted to render medical aid to Gazaway, but he was pronounced dead at the scene.
Police determined that the incident began when Gazaway walked into the store and attacked another individual in the meat department. As the fight progressed, police said Gazaway pulled a gun and fired shots into the ceiling, rupturing some kind of waterline. That's when Gazaway walked out of the building and was shot by police.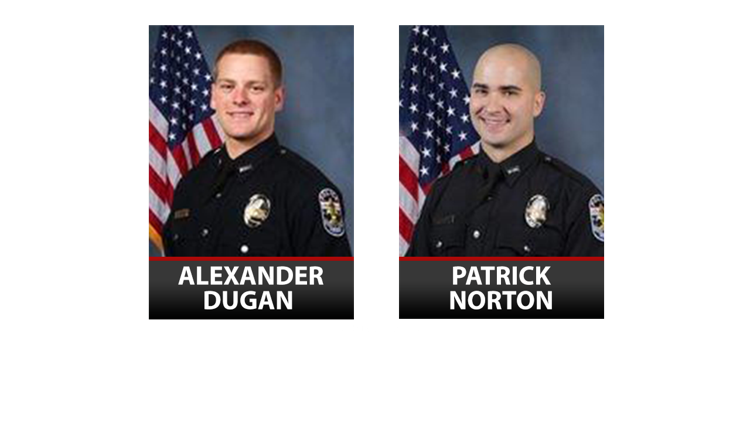 Police have spoken with the person who was initially assaulted, and Schwab said they are still trying to determine the relationship between that person and Gazaway.
Related stories: 
Copyright 2019 WDRB Media. All rights reserved.