LOUISVILLE, Ky. (WDRB) -- Over the coming weeks, Louisville leaders will have to make tough choices to pass a balanced budget.
As the city faces a $35 million budget gap, it's launched a new website that asks for everyone's help. It asks for ideas to help the city save money.
"I hope people will listen, and I hope they understand that hard decisions are going to be made," Councilman Bill Hollander (D-District 9) said of the city's predicament.
Even though more than 1,200 people have already sent in their ideas, Councilwoman Paula McCraney (D-District 7) has been looking for more input from another source: city employees.
"I am one of those Metro Council persons that picked up the phone or met with employees, just front-line employees, and asked questions, and they were filled with ideas," McCraney said.
But McCraney said she recently discovered a roadblock.
"I was told that [Mayor Greg Fischer's] administration told the supervisors to inform their employees not to speak to Metro Council members," McCraney said.
At the very end of a budget committee meeting Thursday, she raised the issue and brought proof in the form of an email from the director of Louisville Metro Animal Services to his employees.
"Per the mayor's office, should a council person or one of their staff reach out to you about LMAS operations or LMAS budget, you are required to inform me and an [sic] will handle," Director Ozzy Gibson wrote in the email.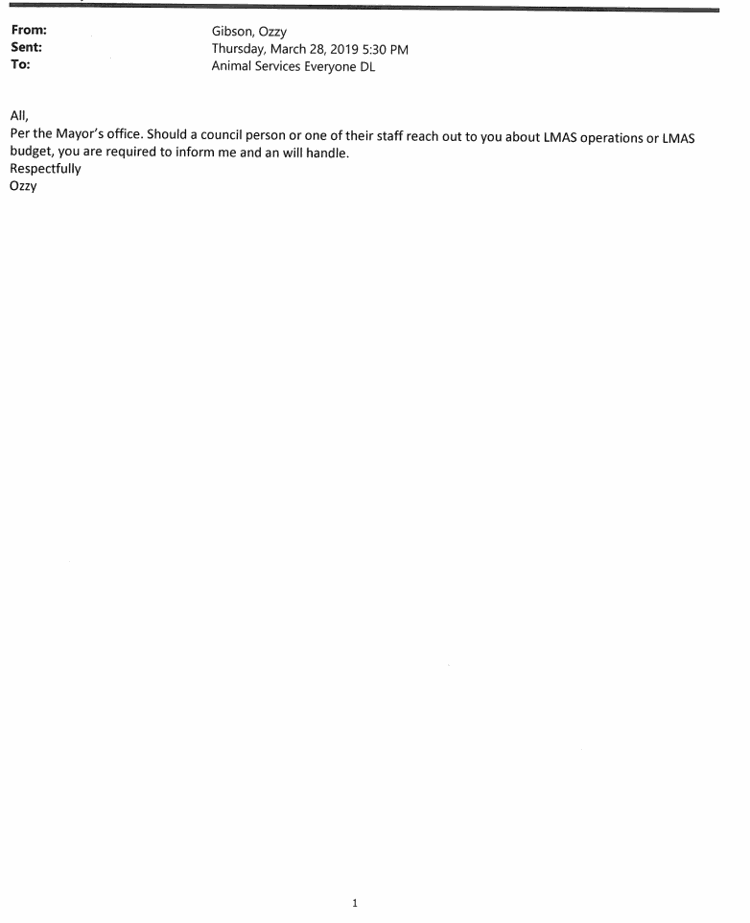 McCraney called the email and possible directive from the mayor's office disappointing.
"This was clearly a mandate to not speak to Metro Council members," she said.
She said ideas of cuts and efficiencies from front-line workers have been some of the most honest and valuable.
"They know the job. They do the job every day," she said. "They probably don't have an opportunity on a daily basis to give examples of work-related efficiencies."
Hollander said he has personally been able to speak with front-line workers but said he'll look into the email that he considers concerning.
When asked for comment, Jean Porter, the communications director for Fischer, clarified:
"We always want to make sure that council is getting the most accurate information and the full picture of an issue or initiative when they ask an employee a question. In this case, the director of LMAS asked his employees to refer any council questions to him to handle so he could make sure they were handled appropriately," Porter wrote. "We also encourage council members to work with our designated counsel liaison since it is her primary job to coordinate with them on any issues they may have."
"I appreciate the mayor's office wanting to make sure council members get accurate information. That's important," McCraney responded. "Most companies and agencies I've worked for in the past have a written policy against employees speaking to media. But, for an agency or mayor's office to tell employees not to speak to elected officials is ludicrous, especially since we are faced with a budget crisis and must find efficiencies in the budget by June 25."
Related Stories:
Copyright 2019 WDRB Media. All Rights Reserved.