LOUISVILLE, Ky. (WDRB) -- Cases of COVID-19 in Kentucky are continuing to escalate and are pushing novel coronavirus-related hospitalizations near an all-time high.
Gov. Andy Beshear on Wednesday reported 1,346 new COVID-19 cases, a single-day record, notwithstanding the backlog-inflated 2,398 cases the state reported Oct. 7.
Wednesday's record should "jolt" people into taking the virus more seriously and to recommit to following the health guidance, the governor said. 
"This is heating up all over the country," Beshear added.
Through the first four days of the week, the state has recorded 3,617 cases, which is 478 cases above the prior record for a Sunday-Wednesday period.
According to Johns Hopkins University, cases and deaths are trending upward nationwide. The 50 states reported another 52,406 cases Wednesday and 802 deaths. Since the pandemic began, nearly 216,000 Americans have died from the coronavirus.
Hospitalizations, ICU needs rising
Beshear also said that the state also is seeing a rising number of COVID-19 patients who have to go to the hospital, receive intensive care treatment and need help from a ventilator.
He said 711 people were hospitalized with COVID-19 on Wednesday. According to state records, that's the second-highest after the 717 who were hospitalized on Aug. 7. The number of COVID-19 patients in the hospital Wednesday also was up 41% from a week earlier — though the Kentucky Hospital Association said the state still has 3,340 beds available, or about 28% of the state's total capacity.
Beshear also said that the number of COVID-19 patients in intensive care has risen to 185, which, according to state records, is the highest since mid-May.
According to the hospital association, 229 ICU beds, or 13% of capacity, remained available Tuesday, though COVID-19 patients occupied only 11% of beds that were in use.
The governor said 113 people were on a ventilator Wednesday, which was up by about a quarter from Tuesday.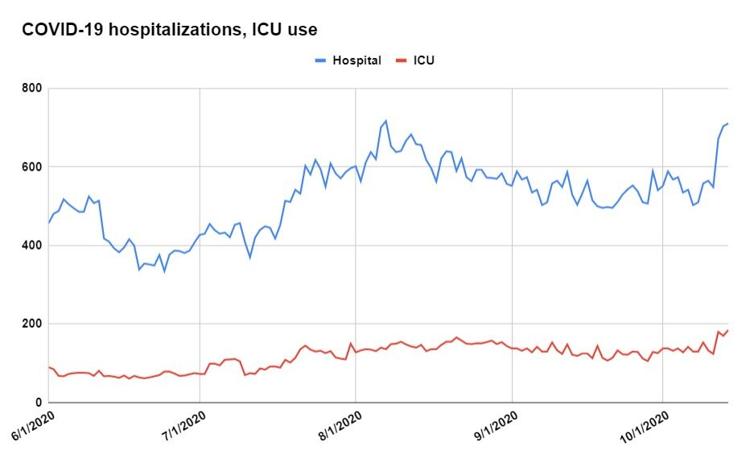 Beshear reported seven more COVID-19-related deaths Wednesday. Through the first four days this week, the state has recorded 27 deaths, which is far below a record for a Sunday-Wednesday period but also the highest in the last six weeks.
The state's mortality rate, or the share of people who die after testing positive, has fallen to just under 1.54%. Health officials have said that the mortality rate is falling for reasons including earlier detection, better treatment and a greater share of infections among young people, who are much less likely to succumb to the virus than older people.
Since the pandemic began, 1,276 Kentuckians have died from COVID-19 or complications related to the virus. Nearly half were at least 80 years old. About three quarters were at least 70.
The state said 16,756 people have recovered. That's about 20% of all people who have tested positive.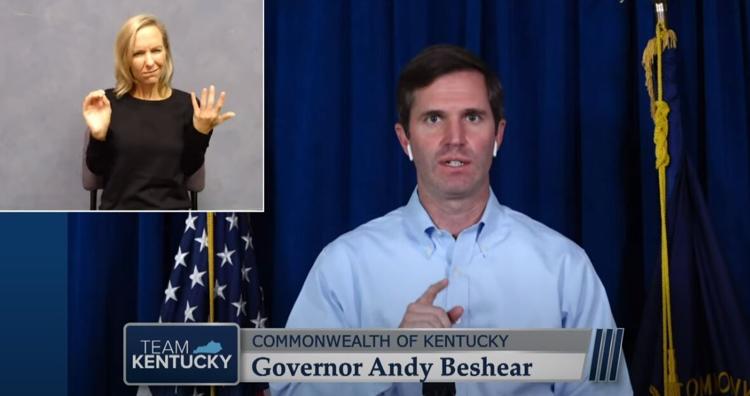 Beshear said the escalating number of cases and hospitalizations "ought to convince us that we've got to do a little better." He urged Kentuckians to stay at least 6 feet apart, avoid large gatherings and wear their masks when appropriate.
The governor also called on people to remain civil, despite the difficult circumstances the state and nation are facing.
"While some people may think that it's their right not to wear a mask, no one has a right to yell and scream and threaten somebody with violence," he said. "If you get to that last part, you're breaking the law.
"Nobody gets an excuse to be a jerk."
Copyright 2020 WDRB Media. All Rights Reserved.