LOUISVILLE, Ky. (WDRB) – NASCAR roared back to life at Darlington Raceway in South Carolina on Sunday, but it was not business as usual.
The FOX national broadcast typified the theme of the next few months in sports: spread it out. The garage areas were spread through Darlington's infield. Red tape marked walking lanes and work areas, with fines threatened for team members who (literally) got out of line.
Temperature checks were required of all who entered. FOX showed its analysts in different locations. Track personnel and crew members wore face masks. The telecast showed team engineers working offsite, monitoring telemetry on computers in rooms by themselves. Each team was allowed only 16 members on-track.
NASCAR is not doing COVID-19 tests on drivers and team members, opting to save tests for the general public. But it did require anyone cleared to come onto the track to stay on track once admitted, and to log who they come into contact with, while adhering to CDC social distancing guidelines.
And of course, the stands were empty. The only fans anywhere around spread out within earshot outside the track, just to hear the engines. Darius Rucker performed the national anthem from his home. And the "start your engines" command was given via Zoom by area health-care workers.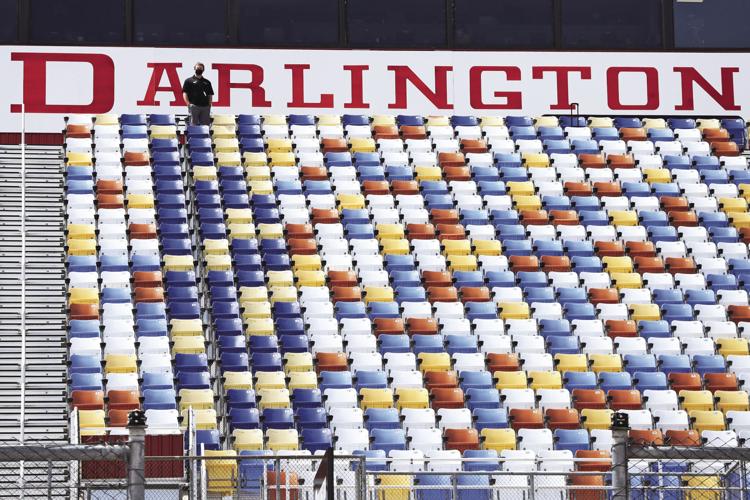 There was no practice. There was no qualifying. It was show up and race for NASCAR drivers, but after 2 ½ months on the shelf, they were all to happy to do it.
There was some rust. Ricky Stenhouse Jr. wrecked on the first lap of the renamed Real Heroes 400, lasting just two turns before hitting the wall. Jimmie Johnson, 7-time champion, crashed on the final lap of the first stage – which he was about to win.
The only off-track glitch came when viewers of the FOX telecast saw team spotters grouped a tad-too tightly atop the press box. A slew of Tweets got NASCAR's attention, and they were warned to spread back out.
In the end, though, Kevin Harvick won NASCAR's first race back pretty comfortably – and even more important, the series appeared to return to live racing just as comfortably.
"I just want to thank everyone from NASCAR and all the teams for letting us do what we do," Harvick said. "I didn't think it was going to be that different, then we won and it's dead silent out here. We miss the fans."
Harvick still turned donuts in the infield – there was just no one to cheer him on. But for most, the roar of the engines was enough, for now. It begins the much-needed flow of revenue for NASCAR, and fills a much needed void of live sports for fans, whose presence was felt even in their absence.
"There were times when you looked in the grandstands and see empty seats, and yet you feel eyeballs coming at you through the camera lens," said Kurt Busch, who finished third behind Harvick and Alex Bowman. "And that's the way I approached the race. Even walking down pit road, crew members with masks on, you halfway don't recognize anybody until I got to my guys."
NASCAR will embark on an ambitious stretch of races now that events are back, with a Wednesday night race at Darlington and two races at Charlotte next week and a stop at Bristol on May 31 before a June schedule that includes four races in the first three weeks.
All of those will be run without fans. But as drivers noted Sunday, it's a start.
"I think that everyone was just so happy to be back, as odd as the vibe was around it all, everyone felt happy again," Johnson said. "It was good to see everyone, even if you couldn't shake their hands or hug them yet. That will come in time, if we all do what we need to do right now. It was like a big reunion."
Copyright 2020 WDRB Media. All Rights Reserved.