LOUISVILLE, Ky. (WDRB) — The Housing Partnership, a nonprofit organization, has secured all the funding needed to begin construction on a long-awaiting affordable housing complex in the Portland neighborhood.
The vacant lot at Montgomery and 26th Streets is being cleared, and construction work is expected to start after the Kentucky Derby. The two-story complex will be set up in an L shape with 24 two- and three-bedroom family units. And there will be a large green space in the center.
The $2.9 million project is about three years in the making, according to Jeremy Dyer, the senior project manager for HPI.
"One of the reasons it's taken so long is that it's a difficult thing to put together — a project that provides quality, affordable, new construction housing in a market that doesn't get as high or rent as some other parts of town," Dyer said.
He said they had to get creative in order to secure all the funding. Much of it is through the Louisville Affordable Housing Trust Fund, which the city set up and funded a few years ago.
"Without them providing a third of the financing for this project, it wouldn't have been possible," Dyer said.
The other permanent financing lender is Hope of Kentucky, a consortium of banks across Kentucky that can provide non-traditional financing with a little more risk. The site was owned by developer Gill Holland, who is well known for his investments in the Portland neighborhood, but he sold it to HPI as part of the project.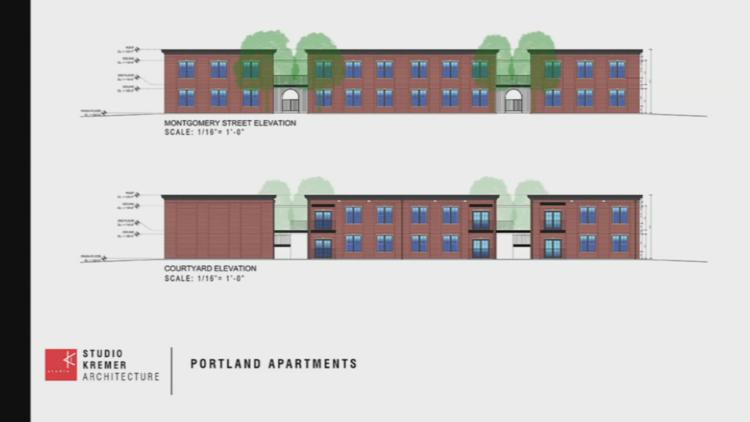 Dyer said the complex will be meeting a need for more affordable rental housing, but it is not qualified as Section 8. Section 8 housing can be site-based and tied to the property, or it can be in the form of vouchers that travel with residents and are accepted by landlords. The Montgomery Apartments will not be a Section 8 property, but it is designed to affordable.
"It's for households whose income is below 80 percent of the area median income," Dyer said. "And that depends on the household size and how many people live in the unit."
A two-bedroom apartment will rent for $725 per month, and a three-bedroom apartment will rent for $830 per month.
"You compare that to some of the projects in the east end that are $1,300 and up for a three bedroom," said Dyer. "Then we're coming in almost $500 cheaper than some of the market rate stuff in other parts of town."
Dyer added that the building is designed to suit the Portland neighborhood. The team and architects worked with neighborhood groups to make sure it would fit in. The original plan included more than 30 units, but HPI decided on 24 so as not to overcrowd the area and limit traffic concerns. The apartments will also mimic some unique architectural features found on nearby historic homes and buildings. The developer also unearthed an old brick sidewalk that they hope to preserve as part of the property.
Dyer said there are homes and apartments in the Portland neighborhood that are in the $500 or $600 range, but the vast majority of the buildings in the neighborhood are old. He said rent in the $700 to $800 range for brand new construction is affordable and needed for the market.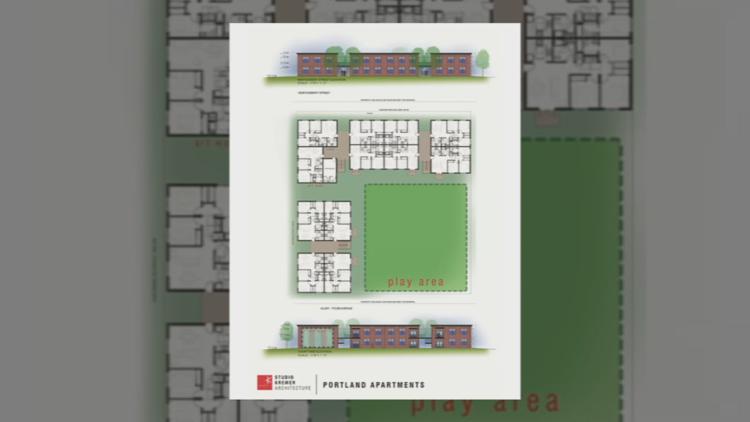 "It's very difficult in several west end neighborhoods to find quality, new construction housing that is still affordable," he said. "This is going to offer opportunities to folks in this neighborhood that they haven't seen maybe ever."
Related Stories:
Copyright 2019 WDRB Media. All Rights Reserved.