LOUISVILLE, Ky. (WDRB) -- Crews are working to get ready for Hometown Rising, Bourbon & Beyond and Louder than Life with the first festival now less than a month away.
The site at the Kentucky Exposition Center, called the Highland Festival grounds, is an unused area of the facility off Phillips Lane.
"The perception is it's going to be in the parking lot at the Expo Center, but in reality, it's on a part of the property that's not really used," said Doris Sims with Danny Wimmer Presents. 
The company released renderings showing the planned layout of the festival grounds where the stages, tents and VIP areas will be set up. The mostly grassy area was chosen because it can be completely transformed.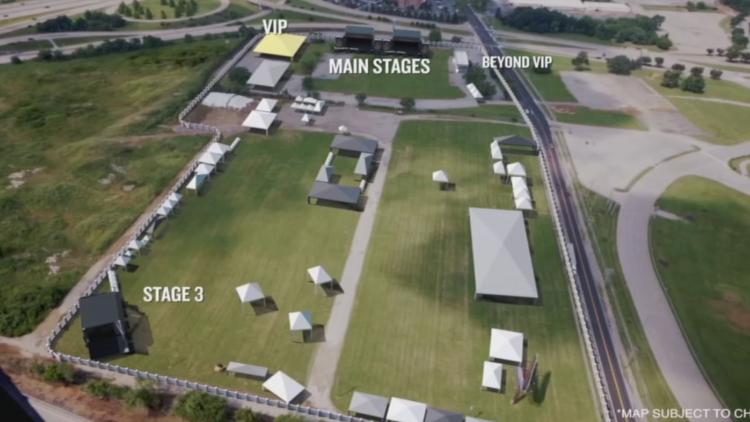 "It was really important to make sure we had plenty of grass, and it just gives that cool festival vibe," Sims said. 
RV camping will be across from the festival grounds. General camping will be down Phillips Lane, closer to it's intersection with Crittenden Drive, behind the rides at Kentucky Kingdom.
Parts of Phillips Lane will be shut down during the festivals to allow festival-goers to walk safely. Sims said she's working with the Expo Center and the Louisville Metro Police Department to craft a traffic and safety plan. 
Flooding at the previous festival site on River Road led to cancellations, so the company made the decision to move the festivals. It's going to take a lot of work to get the site ready, but so far, Sims said everything is on schedule.
"Immediately after the fair, people who are driving by Phillips Lane will start to see some activity, start to see some infrastructure go up," Sims said. "But really, the week of is when everything is happening."
Organizers said they're on pace to sell about 280,000 tickets over the three weekends. You might notice some discounted deals, which the company said is a strategy as the festival weekends approach.
"Our goal is that we want as many people as possible to experience it," Sims said.
The three huge events will make a big impact on the city, if all goes according to plan. Tourism officials expect a large boost for the Louisville economy. 
"We know it will be a huge impact," said Karen Williams, president of Louisville Tourism. "For the three weekends consecutively, it's over $14 million in our economy."
The festivals will also likely benefit the state economy, since many people may decide to hit the Kentucky Bourbon trail. 
Hometown Rising is set for Sept 14-15, Bourbon & Beyond is set for Sept. 20-22 and Louder than Life is scheduled for Sept. 27-29. 
Related Stories:
Copyright 2019 WDRB Media. All Rights Reserved.