LOUISVILLE, Ky. (WDRB) -- A judge has set bond at $2 million for an 18-year-old charged with shooting and killing a 17-year-old in Victory Park late Monday night.
Brandon Briceno was arrested Tuesday and charged with the murder of 17-year-old Devin Swann, who was shot and killed on a crowded basketball court.
Briceno's bond was initially set at $2.5 million, prompting defense attorney Rob Eggert to argue for a lower amount. 
"Judge, the problem with that two-and-a-half-million dollar bond -- it's going to be reduced -- but if at some point it's going to be reduced, it should be reduced from a figure that's reasonable. This is essentially no bond. If they're going to ask for no bond, I would ask for a no-bond hearing because that's essentially what two-a-half-million dollar bond."
Judge Amber Wolf said Briceno is "absolutely a danger to the community," and decided to set bond at $2 million. In setting the bond, Wolf cited a long list of other charges Briceno is facing, including assault for allegedly shooting a woman on the same day that Swann was killed. 
LMPD says that woman was shot on Hathaway Avenue, a few blocks from Wyandotte Park, Monday afternoon. She was taken to the hospital, and police say she is expected to survive. 
Around 9:30 p.m. on June 3, police say Briceno was trying to illegally sell a gun at Victory Park in the California neighborhood when he got into an argument. That's when police say Briceno shot and killed Swann. Briceno told police Swann was shooting as well, but police say there's no evidence to support that claim.
Briceno was arrested Tuesday morning. An arrest report says he was found after police began questioning people in a stolen Mazda in a parking lot in the 4900 block of Outer Loop around 9 a.m. The driver of the car sped away as police were speaking with them, ripping the door handle out of the officer's hand.
A couple of hours later, around 11 a.m. police caught up with them in another stolen car. The suspects led police on a chase that ended in a crash at Foreman Lane and Oakmont.
After a short foot chase, Briceno and three other people who ran from the car were arrested, including two juveniles and 19-year-old Melissa Austin. She faces several charges, including receiving stolen property, fleeing or evading police, criminal mischief, trafficking in a controlled substance (meth), and possession of marijuana and drug paraphernalia. 
She also appeared in Wolf's court on Wednesday, and her bond was set at $100,000.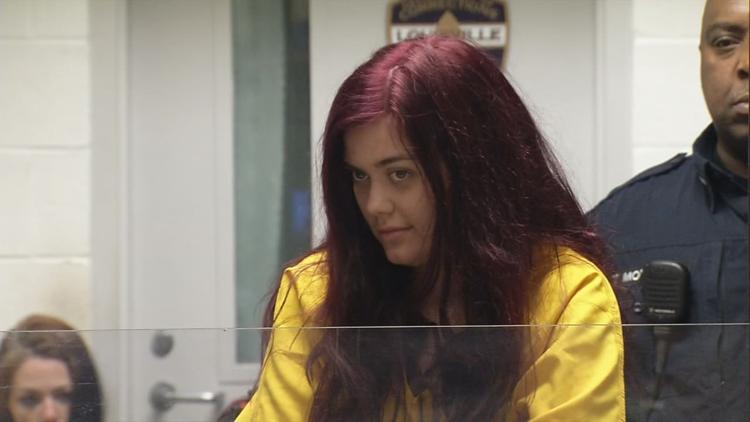 Copyright 2019 WDRB Media. All rights reserved.