LOUISVILLE, Ky. (WDRB) -- Louisville Metro Police say they arrested a man accused of kidnapping and assaulting his girlfriend, thanks to help from a police K9.  
According to an arrest report, the incident started around 10:30 a.m. Wednesday, in the 1100 block of South 16th Street, near Gallagher Street. 
LMPD posted pictures on its Facebook page on Thursday.
Police say they were called to that location after someone reported that a woman was being forced into a car at gunpoint by her boyfriend.
When police arrived and began talking to witnesses, 22-year-old Jordan Griffith pulled in front of them in a silver Kia Sorento, according to the arrest report. He then drove southbound on South 17th Street "at a high rate of speed."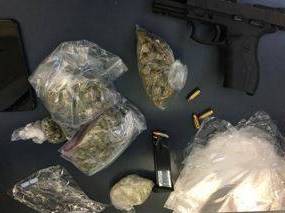 Police say they began chasing Griffith, believing the woman had been kidnapped and that her life could be in danger. The pursuit continued to I-65, then the Watterson Expressway, and then to Poplar Level Road, where Griffith spun his vehicle and jumped out. 
He then ran into a nearby field in the 5200 block of Poplar Level Road, east of Jefferson Boulevard. Police say he was armed with a handgun. Several officers chased him into the field, and he pointed the gun at those officers "several times," according to the arrest report.
That's when police say they sent "Bosco," a police K-9, into the chase. Bosco ultimately subdued Griffith, who was taken into custody.
Police quickly spoke with Griffith's girlfriend -- the victim -- who had been a passenger in the car during the chase and was "visibly upset." According to the arrest report, she told police that she and Griffith had been in an argument when Griffith became violent. He allegedly bit her on the face, punched her and pulled out several of her braids. 
Police say they searched Griffith's vehicle and found a "large amount" of pills they believed to be ecstasy, as well as a large amount of marijuana.
Griffith was arrested and charged with first-degree wanton endangerment, fleeing or evading police in a motor vehicle, fleeing or evading police on foot, fourth degree assault, trafficking in a controlled substance and trafficking in marijuana. He is currently being held in Louisville Metro Corrections.
Copyright 2018 by WDRB News. All rights reserved.