LOUISVILLE, Ky. (WDRB) – Attorneys for a man accused of threatening to burn down Trinity High School if Jeff Brohm did not become the next University of Louisville football coach say their client did not break the law and are exploring defending him on First Amendment grounds.
Thor Wiljanen, 29, is charged with second-degree terroristic threatening after posting to Twitter Wednesday that "we burn down Trinity" if Brohm, Purdue's football coach, rejected an offer to be the next U of L coach. Brohm, a former star quarterback at Trinity and U of L, ultimately decided to stay at Purdue.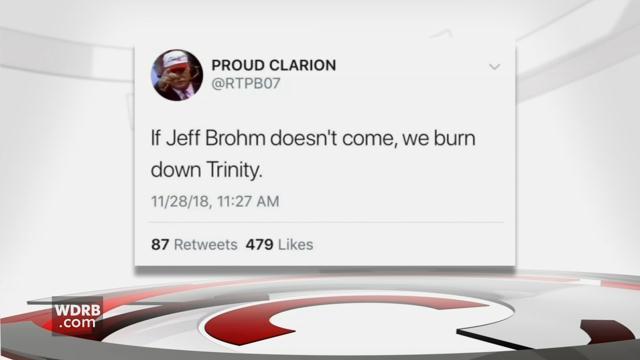 Wiljanen pleaded not guilty Friday.
Wiljanen, who was originally held on a $25,000 bond, was released on his own recognizance Friday. He was ordered to stay away from Trinity and not use social media during his release.
Ted Shouse, one of Wiljanen's attorneys, said his client is an "extremely low risk" to flee during Friday's arraignment, noting his ties to the area as a Louisville native and the fact that his sole legal blemish is a speeding ticket.
"He's the father of two special needs children. One is a nonverbal 3-year-old," Shouse said. "He gets up every morning for three days a week, two hours early to take that child to therapy. He has a father who has advanced dementia who is in a nursing home. He is absolutely no flight risk."
Shouse told reporters later Friday that his client's actions were not illegal. He noted that Wiljanen sought a meeting with St. Matthews police before his arrest Thursday.
"We gave a voluntary statement to the officers, and we were arrested," Shouse said. "We're not a danger to this community. We were never a danger to Trinity High School. We're not a flight risk.
"What this is is something that got out of control really quickly, and I think we all need to slow down."
Shouse has said the posts related to Trinity were intended as jokes, and Keith Poynter, another attorney for Wiljanen, said freedom of speech could be part of their defense.
"Certainly our position has been from the outset and remains today it wasn't a threat," Poynter said. "It was simply a poor attempt at satire that landed us in this position, so there's definitely a First Amendment element to it, and we haven't really explored all avenues with respect to that yet."
But Trinity officials didn't see the humor in Wiljanen's tweets and decided to cancel classes Thursday.
"We appreciate the attention given this situation by the St. Matthews Police Department," Trinity President Rob Mullen said in a news release. "We take the safety and well-being of our students, faculty and staff with the utmost seriousness."
The timing was "ironic" for Amanda Lucas, director of social media and digital recruiting at Spalding University. She was scheduled to speak to Trinity's senior capstone class Thursday about the importance of social media and how a single tweet can impact a person's life.
She now plans to use Wiljanen's tweets as an example in her presentation, which has been rescheduled to Dec. 7.
"I don't think I have to give a presentation now," Lucas said Friday. "I think I can just point to the board as this example and say, 'Don't do that.'"
"This definitely is an example of how things taken out of context can end up having consequences," she said.
While Shouse says his client should have never been charged with a crime for his Twitter posts, the head of the Kentucky Center for School Safety lauded law enforcement and Trinity officials for their work.
Jon Akers, executive director of KCSS and a former high school principal, said he would have canceled classes if he was an administrator at Trinity, and he saw no issue with police charging Wiljanen for terroristic threatening.
"Heavens no," Akers said. "Charge him and let him explain to the judge what he was doing."
Akers is also a member of the School Safety Working Group, a panel charged with examining ways to improve safety at schools across Kentucky in the aftermath of the Jan. 23 shooting at Marshall County High School that left two students dead.
In the current climate, Akers says any perceived threat against a school should be thoroughly investigated and dealt with by law enforcement.
"We have had people who have posted stupid things before and have followed through with violent behaviors," Akers said.
"You only have to be wrong once, and it's going to cost somebody a life or lives," he added. "And so to me, I encourage all school administrators when they have any kind of veiled threat whatsoever, even if they think it's a hoax, err on the side of caution."
Reach reporter Kevin Wheatley at 502-585-0838 and kwheatley@wdrb.com. Follow him on Twitter @KevinWheatleyKY.
Copyright 2018 WDRB News. All rights reserved.