LOUISVILLE, Ky. (WDRB) -- A man and a woman from California who were wanted by U.S. Marshals in Oklahoma were found Tuesday at a Walmart in southern Indiana, according to a news release Friday from Indiana State Police. 
ISP troopers found Tom Baker, 50 and Linda Swift, 69, in their car in the parking lot of a Walmart in Clarksville, Indiana. U.S. Marshals tipped off the troopers that the couple was possibly in the area and provided descriptions of Baker, Swift and their car, ISP said in a news release. 
Baker and Swift were arrested on an outstanding drug warrant from the Sooner State and face additional drug charges after ISP troopers got a search warrant for their car and found meth, marijuana and drug paraphernalia inside.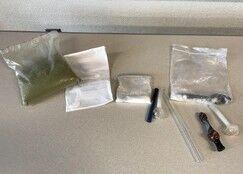 Baker and Swift were charged with dealing in methamphetamine, possession of methamphetamine, possession of marijuana and possession of paraphernalia, according to ISP. Their warrant from Oklahoma was for "Dangerous Drugs," authorities said in a news release. 
The couple was both booked into the Clark County Jail and await extradition to Oklahoma. 
Copyright 2020 WDRB Media. All Rights Reserved.