FRANKLIN COUNTY, Ky. (WDRB) -- Officials are looking for a person of interest in connection with a homicide investigation in Franklin County.
The Franklin County Sheriff's Office says police are searching 38-year-old Derek Garten. Authorities say he's a white male, 6'0 and has brown hair. Currently, Garten is wanted on a charge of third-degree terroristic threatening.
Authorities say Garten is a person of interest after a woman's body was found inside a home. According to WKYT, details concerning the discovery of the body were confirmed by Coroner William Harrod. The coroner has identified the victim as 39-year-old Margaret Smith.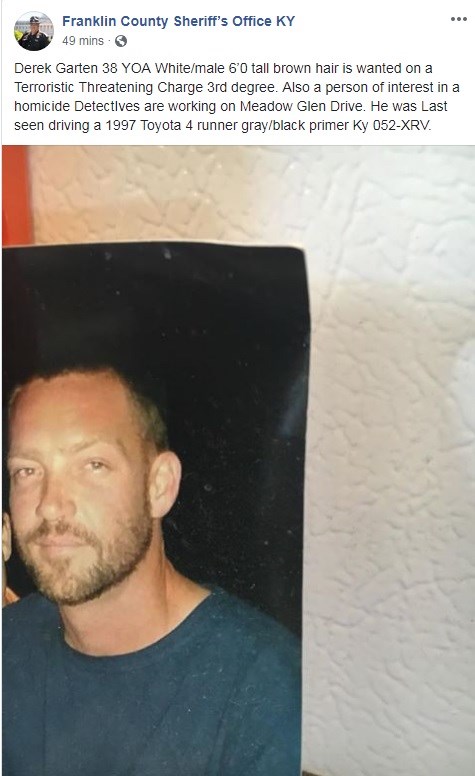 Police say Garten was last seen driving a 1997 Toyota 4 Runner with gray and black primer and a Kentucky license plate number of 052-XRV. According to WKYT, the vehicle has a front vanity plate that says "punisher."
Officials say Smith was found inside a home on Meadow Glen Drive with a gunshot wound. She was pronounced dead on Tuesday just before 8 a.m.
An autopsy is scheduled for Wednesday, and officials say the results will not be available for several weeks.
WKYT reports she had an emergency protective order against Garten, who is considered armed and dangerous.
The Franklin County Sheriff's Office, Kentucky State Police and Franklin County Coroner's Office are taking part in the investigation.
Copyright 2018 WDRB News. All rights reserved.