Warning: The video below may be graphic to some viewers.
LOUISVILLE, Ky. (WDRB) -- Kentucky State Police on Tuesday released body camera video of Louisville Metro Police officers shooting a man during a March 11 foot chase in the Beechmont neighborhood. 
The footage shows LMPD officers using tasers and pepper balls in attempts to subdue the man, who authorities said tried cutting himself with a knife when confronted. Video then shows the man running at officers with the knife in hand and knocking one of them to the ground before he is shot by two officers. 
The body camera footage appears to be edited. KSP has not responded to WDRB News' request for unedited body camera videos, nor has it clarified if it or LMPD edited the footage. Watch KSP's video release and the body camera footage below:
Sgt. Billy Gregory with KSP said the incident began when investigators with the Louisville Fire Department's Arson Bureau were interviewing Bryan Nigel Beach, 26, a suspect in a March 9 vehicle fire. Beach, of Simpsonville, Kentucky, was told he was being charged and arrested in connection to the incident and fled the Louisville Metro Arson Headquarters on Ashland Avenue on foot, according to Gregory.
When arson investigators lost sight of Beach, Gregory said they called 911, and LMPD officers were sent to the area around 2:30 p.m. The body camera footage shows officers chasing Beach down Maple Court, which runs between South Fifth and South Sixth streets — not far from Southern Parkway.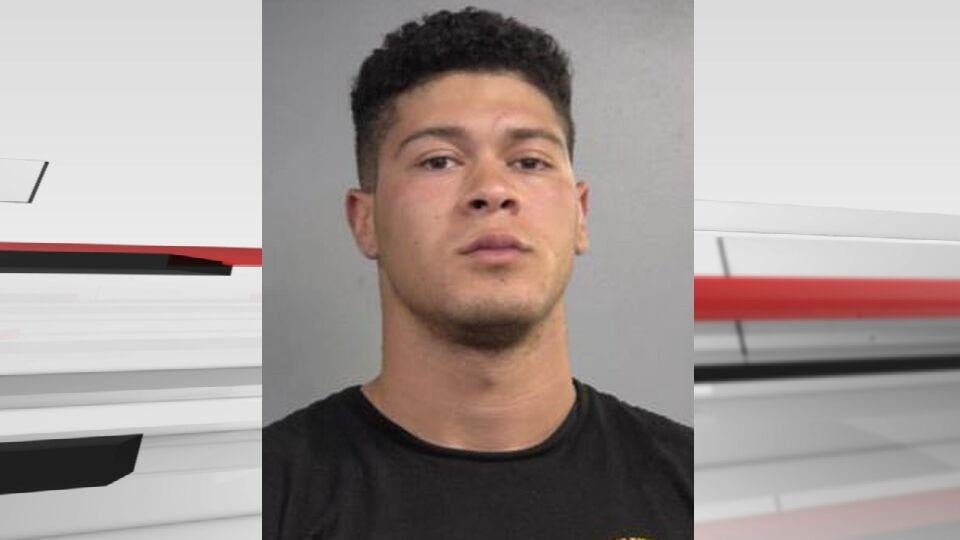 When confronted, Gregory said Beach "displayed a knife and began cutting the side of his own neck." Officers can be heard telling Beach to stop in the body camera footage of the incident. 
LMPD Officer Galen Hinshaw, 32, and another officer whom Gregory did not name used tasers on Beach "in an effort to gain control of the situation," Gregory said. 
Video shows Beach pick up a trash can and throw it at an officer. Gregory said Beach also used the trash can "as a shield while aggressively advancing towards officers with a knife in hand and ignoring officers' verbal directions."
As this is happening, video shows Officer Michael Conner, 37, arriving at the scene and shooting "less lethal" pepper balls at Beach, according to Gregory.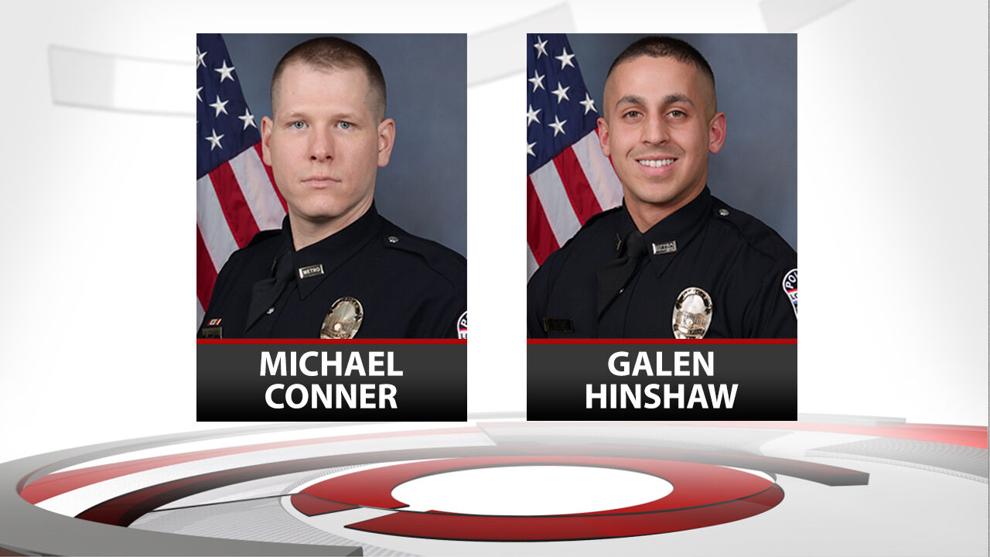 "Less lethal! Less lethal! Watch out!" he yells before firing the pepper balls. 
Video shows Beach continuing to move toward Conner as he is being shot with the pepper balls, and Beach knocks Conner to the ground. Beach's arrest report says he stood over the officer and "attempted to stab the officer with the intent to cause death." He then falls to the ground "still displaying the knife," Gregory said. 
While Beach and Conner were on the ground, Gregory said both Conner and Hinshaw fired their LMPD-issued guns and struck Beach. Video calls attention to what appears to be the knife in Beach's hand as he lays on the ground in the moments after he was shot, and he appears to toss it aside.
Beach was taken to University of Louisville Hospital after receiving aid at the scene, according to LMPD. He has been charged with the attempted murder of a police officer, third-degree assault of a police or probation officer, first-degree fleeing or evading police on foot and resisting arrest.
Beach's current condition is not known. His arraignment hearing has been pushed back multiple times because he remained in the hospital, according to online court records. He is due in court Friday, online records show. 
Conner suffered minor injuries, including scrapes to his left forearm, according to Beach's arrest report. LMPD Officer Beth Ruoff also said in a March 11 statement that an officer was taken to UofL Hospital with a head injury.
Per LMPD policy, both Conner, a 10-year veteran, and Hinshaw, a seven-year vet, are on administrative leave during KSP's ongoing investigation, Ruoff said in a statement Tuesday. 
"In accordance with the Standard Operating Procedure, KSP will not be releasing any further details while the investigation remains open," Gregory said in a statement. "Timelines to complete investigations vary based on the complexity of the case."
KSP began investigating shootings involving LMPD in which someone is injured or killed in 2020, per a policy instituted in the wake of the fatal shootings of Breonna Taylor and David McAtee by law enforcement in Louisville.
Last week, state police released body camera footage of an LMPD officer shooting a man on March 9, when a vehicle pursuit ended behind a Walmart in the West Buechel neighborhood. 
This story may be updated. 
Related Stories: 
Copyright 2021 WDRB Media. All Rights Reserved.