BLOOMINGTON, Ind. (WDRB) -- They say birds of a feather flock together. Hang out with Charlie and Jo Jo Poroski at their Bloomington home, and you'll realize that saying is for the birds.
It's a relationship that goes far beyond pet and owner or parrot and human. They laugh and dance together, squawk at one another, and feathers get ruffled.
"It's a bond I've never had with anything else," Poroski said. "Wherever I go or whatever I do, he comes along."
He really means wherever. Most of the time, Poroski rigs up his bike so "Charlie-bird" can hop up on his perch and get ready for the ride.
"He seems to be happy as a clam on that bike," Poroski said.
It's hard for people not to notice, but Poroski doesn't care, and "Charlie-bird" loves a crowd and a good picture.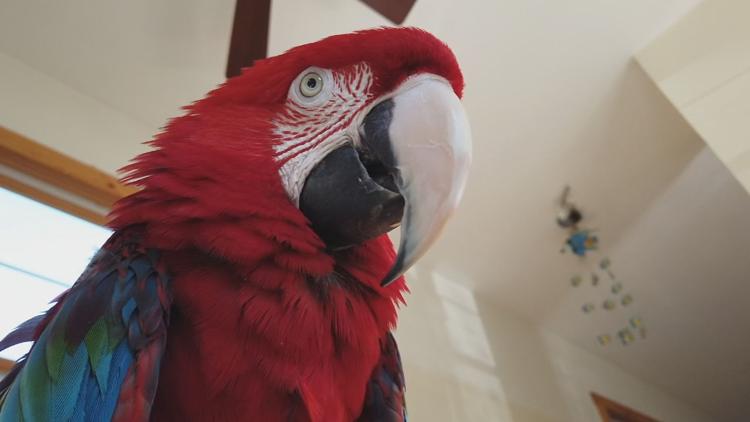 "I'm not lying to you about the cameras. He's like, 'I want that on me,'" Poroski said. "He's the biggest ham I've come across, and I've met a few."
The dynamic duo has pedaled thousands of miles together, but their adventures are not limited to the open road. Charlie loves to tube in the winter and wet his beak with water sports at Lake Monroe in the summer.
"He doesn't hesitate to jump on the perch and go," Poroski said.
He and his bird have been taking adventures for 16 years now. If the town they call home didn't have the Hoosiers, and Charlie wasn't already the name of another local college's mascot, the maccaw just might be Bloomington's.
"People love him," Poroski said. "Everybody knows him."
But before Poroski , "Charlie-bird" almost never knew that love.
"He lived with a man for 23 years. The guy died. He didn't have any provisions for him," Poroski said. "Charlie was left abandoned."
Jo Jo's co-worker took him in, but it didn't go well. Charlie was plucking his feathers, a sign parrots are terribly unhappy. That co-worker turned to Jo Jo.
"Didn't know anything about birds, wasn't looking for a bird," Poroski said. "They choose their mate, supposedly. And when they bond with you, you better like it."
He does, most days. Turns out birds of a feather don't always flock together. Jo Jo and Charlie bird are proving that perhaps only the sky is the limit for true friendship.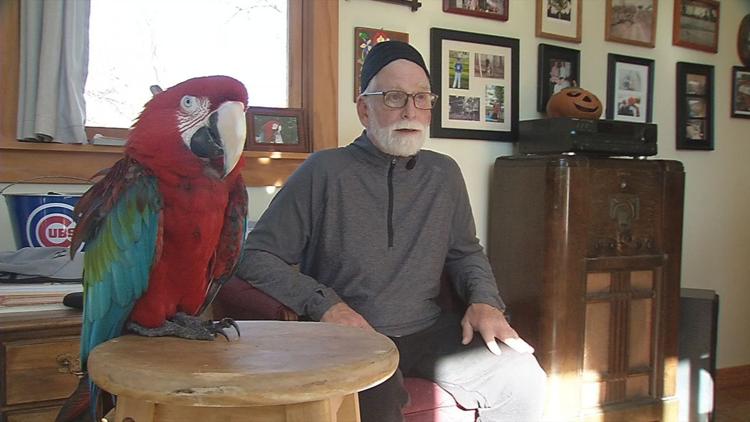 "It's just two old men trying to take care of each other here," Poroski said.
Copyright 2020 WDRB Media. All Rights Reserved.