BARDSTOWN, Ky. (WDRB) -- Dozens of signs asking for prayers for Crystal Rogers are now missing, and her family said it was no accident.
Sherry Ballard, Rogers' mother, is frustrated with a pattern she said has been continuing over the last few years: signs being removed from roadways. Ballard said she was promised by the city the signs would stay up for as long as a search for Rogers continued.
"Do I take that as a lack of respect? Of course I do. These signs mean a lot to me," Ballard said Tuesday. "I have noticed the same time of year every year, whenever the bourbon festival starts getting closer to Bardstown, then they don't want the signs there."
The Kentucky Bourbon Festival takes place every September in Bardstown, and Ballard said it is not a surprised the signs are gone again.
She thinks that's because of the tens of thousands of people who attend the festival every September. She believes the city is trying to hide the case from visitors.
Bardstown's mayor disagrees.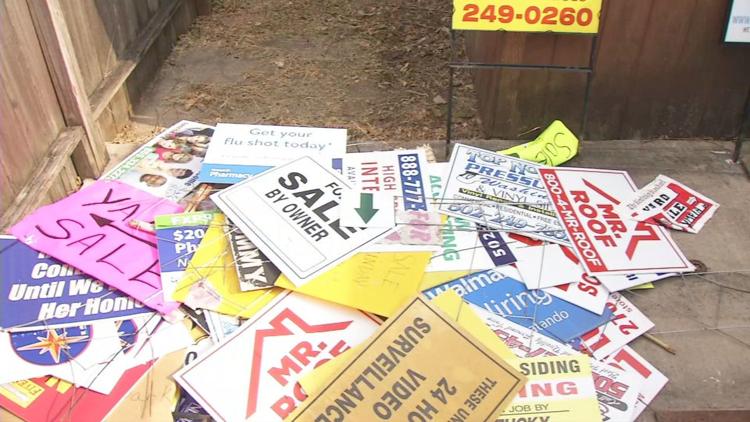 "(We're) not targeting any signs of anybody whatsoever, just cleaning up stuff that hasn't had our attention for the last several months," Mayor Dick Heaton said. "We've never picked them up and thrown (the signs) away."
Ballard isn't buying it.
"My father-in-law went up to the city of Bardstown, and he took the signs out of their dumpster," Ballard said.
On Tuesday afternoon, there were no signs in the dumpster, but several yard signs were locked in a fenced-in area near it, including those for Rogers.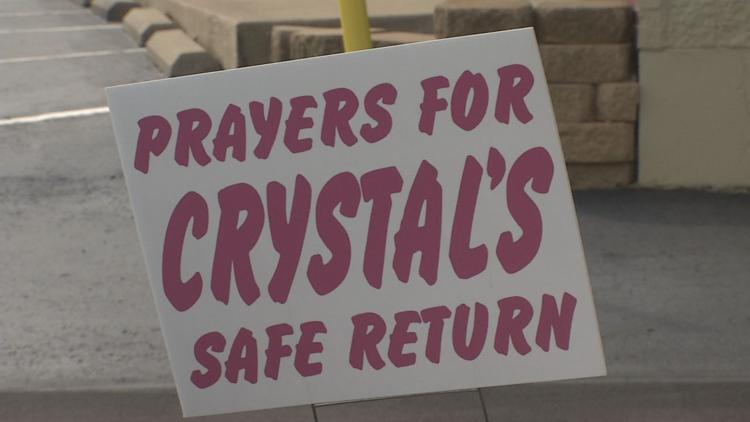 According to Heaton, in the last two weeks, the city has hired a new code enforcement officer who takes down any signs that are in an easement or road right of way, per city ordinance.
"On my way to work today, there were no signs of Crystal anywhere on my way. I didn't see one. Usually, I see 30 or 40," said Mary Taylor, is a family friend of Ballard.
Taylor said the code enforcement officer removed the signs and placed them under an outside bench.
"It's funny that it happens at this time every year," she said. "Those signs have been in my new location for 17 months. No one has said a word. No phone calls happening. No one has stopped by."
While most of the signs removed were in city limits, several signs were removed from St. Thomas Church, where Ballard attends. The church is county property, not city.
Nelson County Judge Executive Dean Watts sent WDRB News a letter saying the county does remove signs from right of ways "with the exception of 'Prayers for Crystal' and signs related to her father Tommy Ballard," adding that the signs will remain out of respect for the family.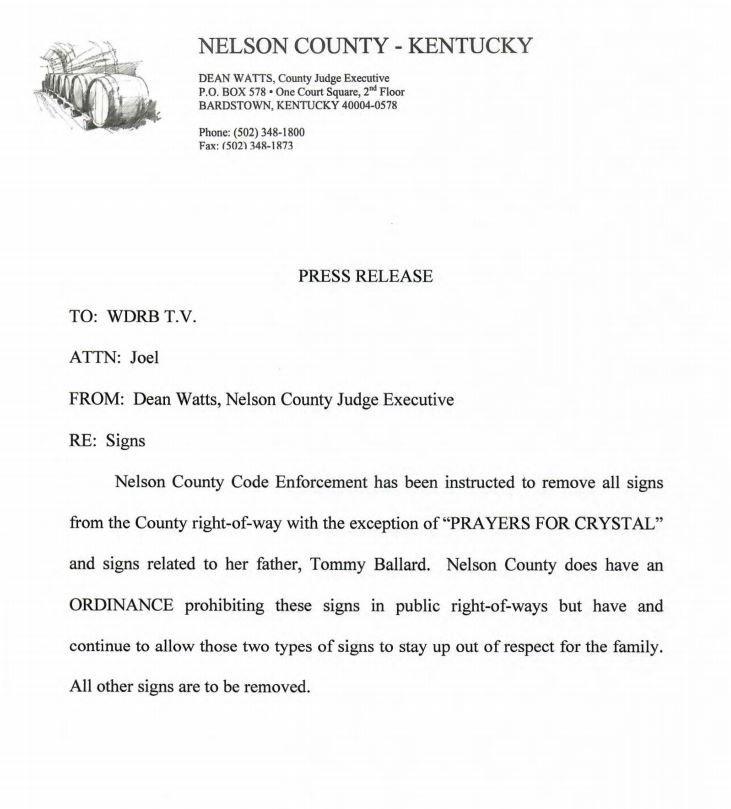 Ballard wants to make sure it doesn't happen again. She has plans to put the signs back up in honor of her daughter, and she has a message for the city.
"They don't lay down every night wondering where their daughter is at. I do," Ballard said. "So if I get a little upset over that, then they are going to have to cut me some slack."
Related Stories:
Copyright 2019 WDRB Media. All Rights Reserved.