LOUISVILLE, Ky. (WDRB) -- The southbound lanes of Interstate 65 will shut down Friday night as contract crews for the Kentucky Transportation Cabinet perform milling and paving operations. 
The closure will begin at 9 p.m. Friday and span from Crittenden Drive through the Interstate 264 interchange. It will remain in place until 12 p.m. Saturday. Drivers will be rerouted onto Crittenden Drive (exit 132) as part of a detour. 
"They're going to pave through that Watterson interchange," Kentucky Transportation Cabinet Spokeswoman Andrea Clifford said. "It's only three lanes wide through there, so they're going to close it down tonight completely and reopen some lanes at noon on Saturday."
KYTC also warns drivers of detours if this route is used to get to Louisville Muhammad Ali International Airport. The exit ramp from I-65 to I-264 will close at 7 p.m. Detours will route drivers to the airport via Martha Moloney Drive.
The northbound lanes of this section of the interstate were paved in the fall, but work could not be completed on the southbound lanes.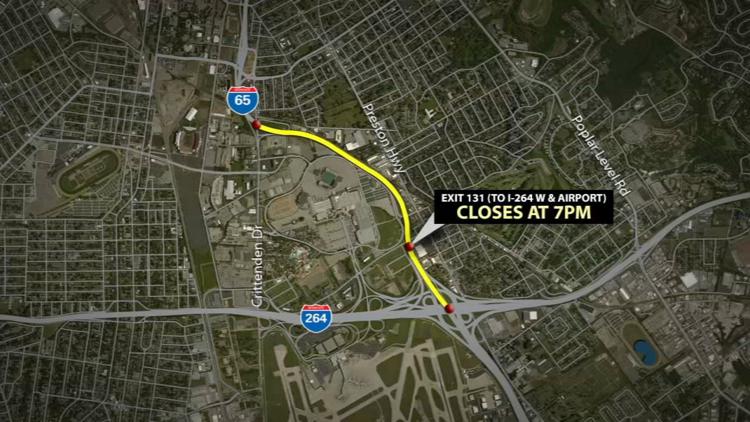 "We had a lot of things we had to work around U of L football games, state fair, holidays and a lot of rain, so the southbound lanes didn't get paved," Clifford said. "And that's what they're working on this weekend."
All lanes will reopen by Monday morning. Crews will not work on the project Memorial Day weekend but will resume work on May 31. Paving will be done from Crittenden Lane to just past Fern Valley Road.
The project will be completed by the end of June. 
Copyright 2019 WDRB Media. All Rights Reserved.