LOUISVILLE, Ky (WDRB) – Dozens of volunteers in the Portland neighborhood took pride in the place they call home with several beautification projects Saturday.
In the 90-degree heat, dozens of volunteers painted, drilled, and worked on the foundation of not just new homes, but also what they hope the Portland Neighborhood will become.
"It's really cool when neighbors come together. The things that we can do together is so much bigger than what we can do alone," said Rob Locke of Habitat for Humanity of Metro Louisville.
Habitat, along with energy management firm Harshaw Trane, helped sponsor the event.
The volunteers drilled, painted, and arranged wooden studs on several properties along Rowan Street. Several Portland businesses and churches helped with the day, dubbed "Love your Neighborhood."
The neighborhood association had a meeting in which they asked for help in home repair, area clean-up, and do-it-yourself classes to maintain what they have.
The volunteers brought the tools and manpower, but it's not a one-and-done process.
A new pilot program called a "tool library" is now providing residents free access to tools they need to maintain their properties.
"Citizens of this neighborhood of Portland have all come out to kind of just get this back into a usable space where it is something nice to look at and not just an acre of overgrown weeds," said Locke.
One of the most overgrown areas was an orchard many of the residents have grown to cherish but the weeds were getting out of control.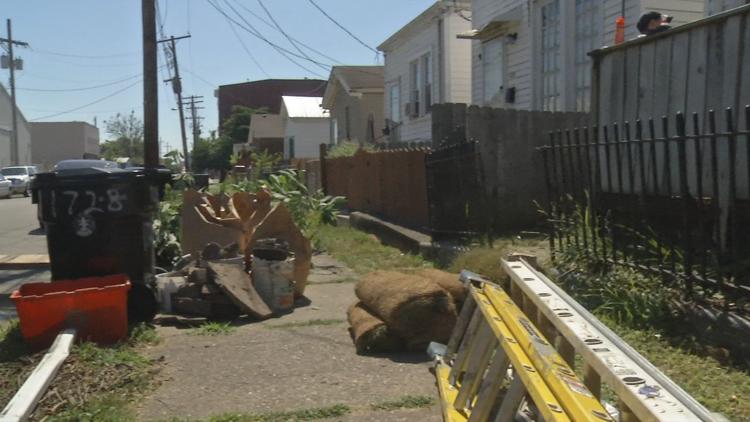 Saturday a man who was hired to cut the lawn at a nearby home volunteered to come and help others and mowed several of the overgrown areas.
Everyone had a role while helping those they have never met all with a final vision of how far they've already come.
"You can just tell there is just a happier environment. It's got a long way to go, but it's getting a lot better," said Locke.
Habitat for Humanity of Metro Louisville has built or renovated at least 520 homes since 1985.
Copyright 2019 by WDRB Media. All rights reserved.