LOUISVILLE, Ky. (WDRB) -- Dr. Mehmet Oz, one of the most well-known heart surgeons in the country and the host of the highly rated "The Dr. Oz Show" that airs on WDRB, visited Louisville Monday and enjoyed a private lunch at Vincenzo's restaurant downtown.
As Oz came to town for a business meeting with leaders from Humana, he also sat down for a one-on-one exclusive interview.
Among the topics discussed is the looming end of Jewish Hospital's heart transplant program. The major transplant center in Louisville announced last month that it would stop doing heart transplants on Aug. 17. Hospital leaders said changes nationally in organ allocation saw fewer of its patients getting hearts.
"We'll, I'm disappointed," Oz said. "I've actually gone to Louisville Jewish. They had some great heart surgeons there that are friends of mine."
Oz is still a practicing heart surgeon in New York. He works his patients around the roughly 175-episode-a-year show schedule.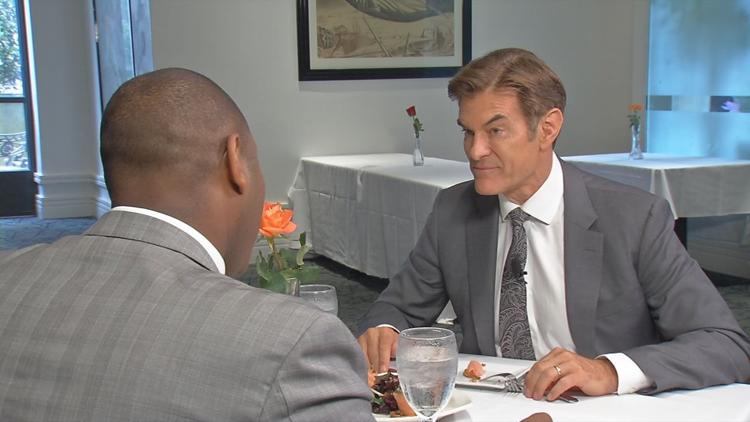 "The smaller communities are going to suffer with organ reallocation, because they don't have the numbers, and it's going to be hard for them to gain enough traction," Oz said. "So the bigger will get bigger and the smaller will get smaller. Jewish is an iconic national hospital. It's not a small setup that had a little bit of talent. They are a group that has grown heart surgery. So it's unfortunate that name centers, respected centers, lose their traction."
Oz used the suspension of the Jewish Hospital heart transplant program to underscore the need for organ donations. He said the average person dies with seven usable organs that could be transplanted. 
"The biggest problem is not the (UNOS) ratings system. It's we don't have enough organs," Oz said. "We should do a better job. At least, if you do nothing else, get your license and check off the back of it or tell someone you care about on Facebook, or whatever social media you use, that you want your organs donated. That way it's public." 
Dr. Oz airs weekdays at 2 p.m. on WDRB. Watch our entire interview below, which includes some inside scoop on the new season of the Dr. Oz show, his new granddaughter due this week and the project that brought him to Louisville.
Copyright 2019 WDRB Media. All Rights Reserved.