ELIZABETHTOWN, Ky. (WDRB) -- In a few months, 30 students inside a classroom at Elizabethtown Community and Technical College could be starting their careers making more than $60,000.
The Greater Knox Coding Academy, which began earlier this month, started after leaders from Knox Regional Development Alliance approached ECTC about a need for IT professionals. There were more than 200 openings at the time.
"Right now, sitting in that classroom is $1.8 million of annual salary if they all complete the certification process," ECTC President Dr. Juston Pate said.
The group supports Fort Knox and its defense contractors. Avey said the program will offer anyone 17 and up the opportunity to work for Fort Knox defense contractors when they complete the course.
Not only does it provide Fort Knox will a pool of certified, local talent, but students from the academy will likely contribute in other job capacities around the community.
"Fort Knox had the need. The region had the talent. The individuals had the desire," Pate said. "They just needed the training pathway. That's where the college stepped in — to provide that training."
Students in the class range from area high school students to experienced workers.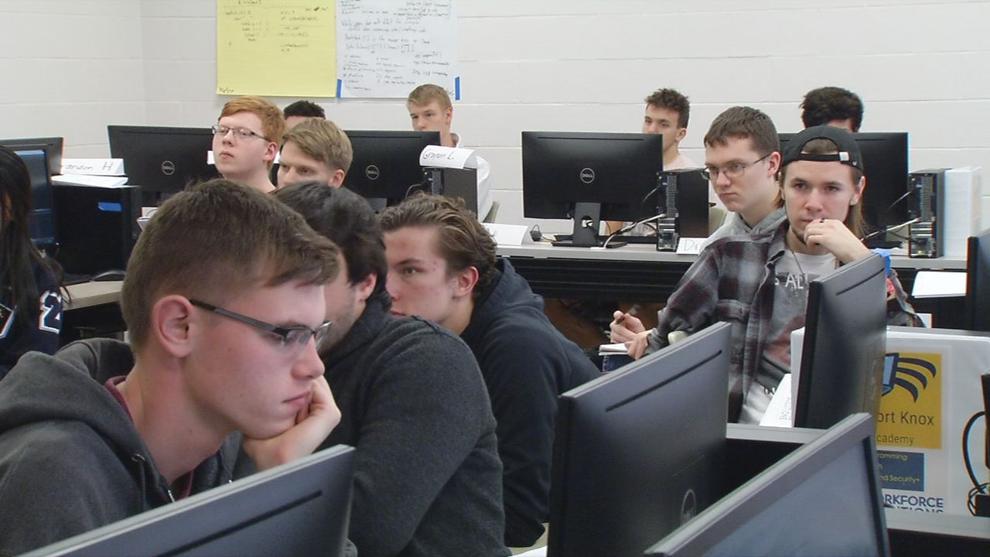 Lesley Downs graduated from Western Kentucky University in May with a business degree but hadn't found her next step until this program. She said it was the right step and that the money incentive didn't hurt.
"It was definitely a motivator," she said.
Downs hopes to work for Fort Knox as an IT Professional when she completes the academy in May.
Other high school students will fall into those roles as well when the 17-course wraps up.
"We're able to work together to make sure we're learning at the same pace," home-school student Grayson Lyvers said.
The academy focuses on skills in Java, Security+ and CompTIA A+. 
The partnership between the Elizabethtown community, Fort Knox and the college makes way for more collaboration in the future.
To find out how you can enroll in the next academy in 2020, contact Steve Bratcher via email at rbratcher0009@kctcs.edu.
Copyright 2020 WDRB Media. All Rights Reserved.