LOUISVILLE, Ky. (WDRB) – Adyson Allen, an incoming fourth grader in Jefferson County Public Schools, spent part of her Monday enjoying a reprieve from the heat at Nelson Hornbeck Park's "spray ground" before hopping onto the Bus Stop Café for a quick bite to eat.
Adyson is among kids who have been fed through the district's summer feeding program, which is open to any child 18 or younger and operates at more than 100 locations.
The mobile cafeteria, a retired bus from the district's fleet, stops at more than 36 additional sites throughout Jefferson County and has tables and benches so kids can eat on board.
Mary Mitchell-Hull, food service manager at the Academy @ Shawnee who is in her fifth year with the JCPS summer food program, knows most of the children who visit the Bus Stop Café by name and sometimes hands out toys along with the meals she helps distribute. On Monday, visitors got free Frisbees with their food.
For Mitchell-Hull, helping kids who might otherwise go hungry is the most important aspect of her work during summer break.
"Sometimes these are the only meals for some kids," she said. "Like at school, it's the only two meals they get, so yeah, it is enjoyable and it's rewarding, too."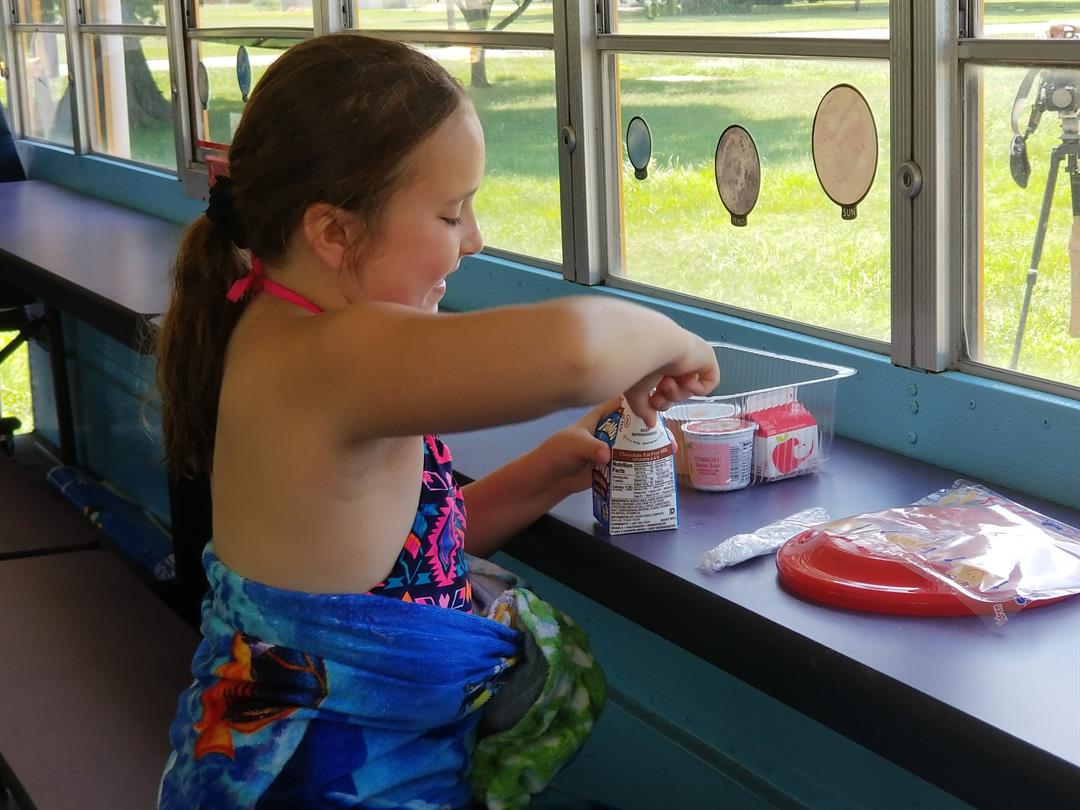 JCPS Superintendent Marty Pollio said the summer food program is an important wraparound service for district students and will likely expand as JCPS looks to offer more educational opportunities next summer.
"We will provide those meals, two and three meals for students, but also that additional learning experience for students in the summer, so hopefully it's a sign of things to come in JCPS," Pollio said.
But many of the district's neediest kids haven't taken advantage of the free meals.
The summer food program gave out some 295,270 free meals last summer, according to JCPS. With nearly 63,000 students on free or reduced-price lunch last year, that averaged less than five meals total per child.
Pollio hopes more kids will be served by the program through increased exposure. The goal this summer, he said, is to top 300,000 free meals distributed.
"Definitely communication is a big part, so this is why we're here right now," he said outside the Bus Stop Café. "We want to increase the visibility of it. I know having a mobile unit that drives throughout the community and stops where the children might be is a big part of it, but we have definitely identified communication as a big way to do that."
To find a nearby JCPS food site, text FOOD to 877877, enter an address at jcps.nutrislice.com or visit the school menu section of the district's mobile app.
Reach reporter Kevin Wheatley at 502-585-0838 and kwheatley@wdrb.com. Follow him on Twitter @KevinWheatleyKY.
Copyright 2018 WDRB News. All rights reserved.