LOUISVILLE, Ky. (WDRB) -- Jefferson County Public Schools was closed Wednesday for the fifth time because of teacher absences.
Once again, those teachers showed up at the state Capitol.
Thursday is the final day of the legislative session before the veto period. Educators have been fighting against the passage of three bills: one of those is now on the governor's desk, and the other two don't seem to be moving.
Senate Bill 250 passed the House on Tuesday and is waiting for a signature or a veto from Gov. Matt Bevin.
That bill is JCPS-specific and gives the superintendent more power. JCPS superintendents will be able to hire principals, which is currently the job of the school-based decision making councils.
Educators are keeping an eye on two other bills. House Bill 525 would alter who is on the Kentucky Teachers Retirement Board and House Bill 205 would give tax credits for private schools. The belief is that both bills could be detrimental for public education, and while they say they don't want to have school cancelled, they say it seems to be the only option to get their voices heard.
"I really do feel for those parents and I feel for my students," said Brian Batcheldor, a JCPS teacher. "We don't want to sacrifice our mission for the present of education for the future of education. That being said, some of the bills that are being pushed through that would degrade public education are unacceptable to us and we're gonna fight."
"We would much rather be in our classrooms than here today," said Meredith Poynter, a teacher. "And unfortunately, we had to make that choice."
"Why should we have to take off from doing our job to come babysit them to do their job?" asked teacher Latoya Malone.
The sponsor for HB 525 amended the bill to have legislators study the issue between now and the next session, so it will likely not move this session.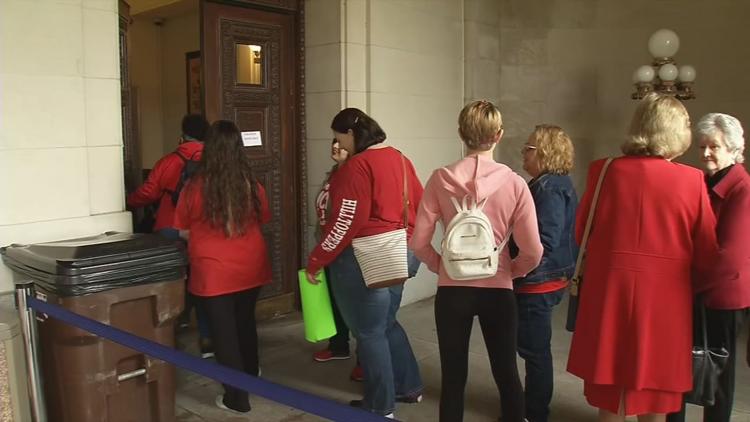 As for HB 205, teachers were worried it would be tacked onto a tax bill. To date, that has not happened.
House Floor Majority Leader John "Bam" Carney told WDRB's Lawrence Smith that HB 205 and HB 525 are all but dead, saying they are "resting comfortably."  
Given the bills' status, he says he's wondering why teachers aren't behind their desks.
"I feel like they need to be in school these last several days," he said.
Some lawmakers are now wondering if teachers are acting on bad information.
"Maybe there needs to be better communication back to the teachers to know if those aren't moving, then hopefully they can find the resolve to return back to the classrooms," said Republican State Senator Max Wise, the Senate Education Chairman.
"I think if they really knew where we are at, they'd probably be in school today," Carney added.
But the leading House Democrat says teachers should not let their guard down.
"I've been around this process a long time," said Representative Rocky Adkins, a Democrat, and the House Minority Leader. "Like Lazarus, things can come back to life."
And the teachers remain confident that most parents still support them.
"They know that we're sacrificing today," said Susan Stoneburner. "It's not easy to be here."
Just spoke with House Majority Floor Bam Carney. He says the two bills teachers are most concerned about HB 205, the tuition tax credit bill, and 525, which reorganizes the Teacher Retirement System Board are "resting comfortably," meaning they are all but dead. pic.twitter.com/0sENjniOFp

— Lawrence Smith (@LASmithReports) March 13, 2019
In any case, teachers we've spoken with say they can't trust lawmakers.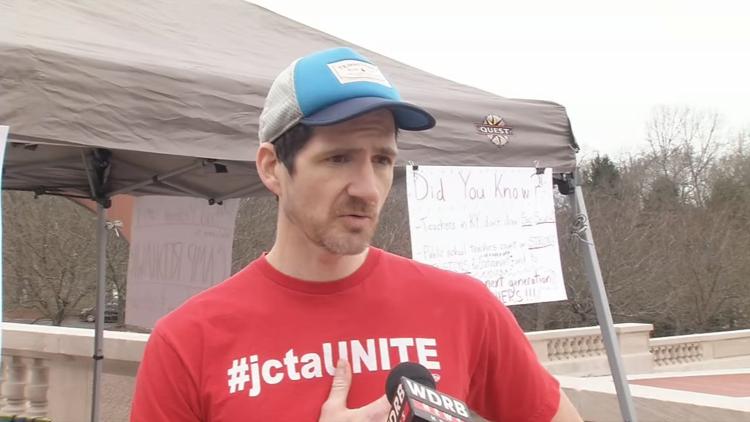 "We refer to the pension that was passed last year as 'the sewage bill,'" said Batcheldor. "The day after that was passed, I called my representative – Mary Lou Marzian – to ask why she didn't vote on that particular bill. She was not present. And the Democratic – a lot of the Democratic lawmakers didn't even know that there was gonna be a vote that day until the very last minute. So we've seen the kind of shenanigans that they can pull to get stuff passed through. And a lot of teachers just don't have faith in that process anymore because of that."
Copyright 2019 by WDRB Media. All rights reserved.