ELIZABETHTOWN, Ky. (WDRB) -- On the shore of Freeman Lake in Elizabethtown, there's a special memorial for a special person.
Down a gravel path at the picturesque Freeman Lake Park sits a bench inscribed with words Christy Gordon truly understands: "The loss is unmeasurable, but so is the love left behind."
"This is a lake where he walked and ran around every day," Gordon said as she looked at the lakeside bench. "We spent a lot of time here together, actually. We would sit over there and watch the fireworks on the Fourth of July."
The bench and words are a memorial to her friend, Subash Ghale, who was shot and killed while working at a nearby T-Mart gas station nine months ago. On that February night, Shadrach Peeler, 36, shot and killed a woman just a short walk from the T-Mart. Elizabethtown Police said he then showed up at the gas station and shot three more people, including Ghale, the beloved clerk. After the shooting, police described the incident as a "murderous rampage."
"There's reminders every day," Gordon said. "Just driving through town, places maybe we had went. Maybe sometimes songs — music. Anything can just bring up those memories. It's a daily struggle."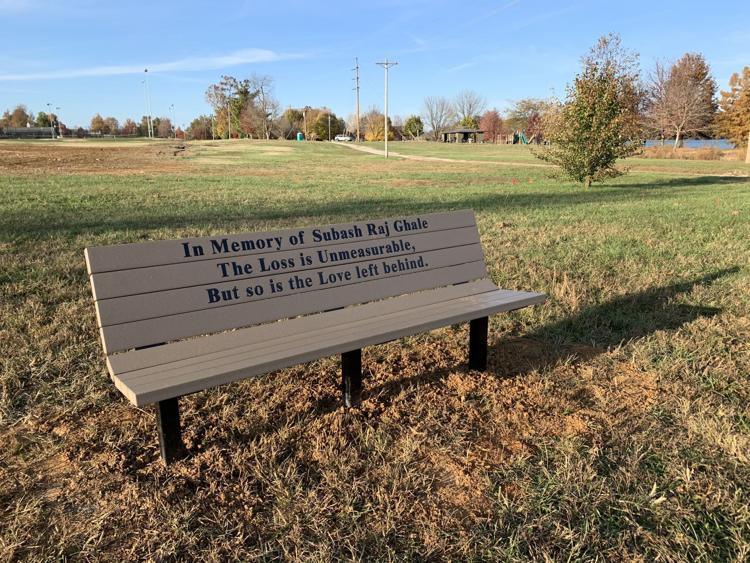 Next week, Gordon will help officially dedicate the new memorial, which she says has layers of meaning.
First, it's a reminder of the cost of domestic violence, which she said sparked the incident that ultimately killed Ghale.
"It stemmed from domestic violence from another couple that affected innocent people — three people that weren't even involved," she said.
It's also a reminder of Ghale, her special friend whose spirit seems omnipresent in the special place.
The dedication of the memorial will happen at 4 p.m. Tuesday, Nov. 12, at Freeman Lake Park. Elizabethtown Mayor Jeff Gregory, a domestic violence prevention group and others will all be speaking.
Copyright 2019 WDRB Media. All rights reserved.