LOUISVILLE, Ky. (WDRB) -- The Kentucky Humane Society said an emaciated puppy left in a cardboard box at the agency last week brought some of its employees to tears.
According to social media post, the discovery was made Friday morning when an employee found the box near the recycle bin. The box was taped shut with air holes and the words "FOUND HELP ME" written on it.
The agency said the employee opened the box and found something "that brought even our most seasoned team members to tears."
"An emaciated and miserable looking animal was staring up at them," the agency posted to social media. "The young dog's inflamed skin was raw and swollen from infection, he was missing almost all of his fur, and he was bloody from the sores that covered his thin body. He was so weak from demodectic mange and malnutrition that he could not even stand on his own."
Demodectic mange, an inflammatory disease caused by mites, is not life-threatening, according to KHS, but the puppy had been suffering from the disease for so long that his immune system was compromised, and employees were not sure if he would survive the weekend.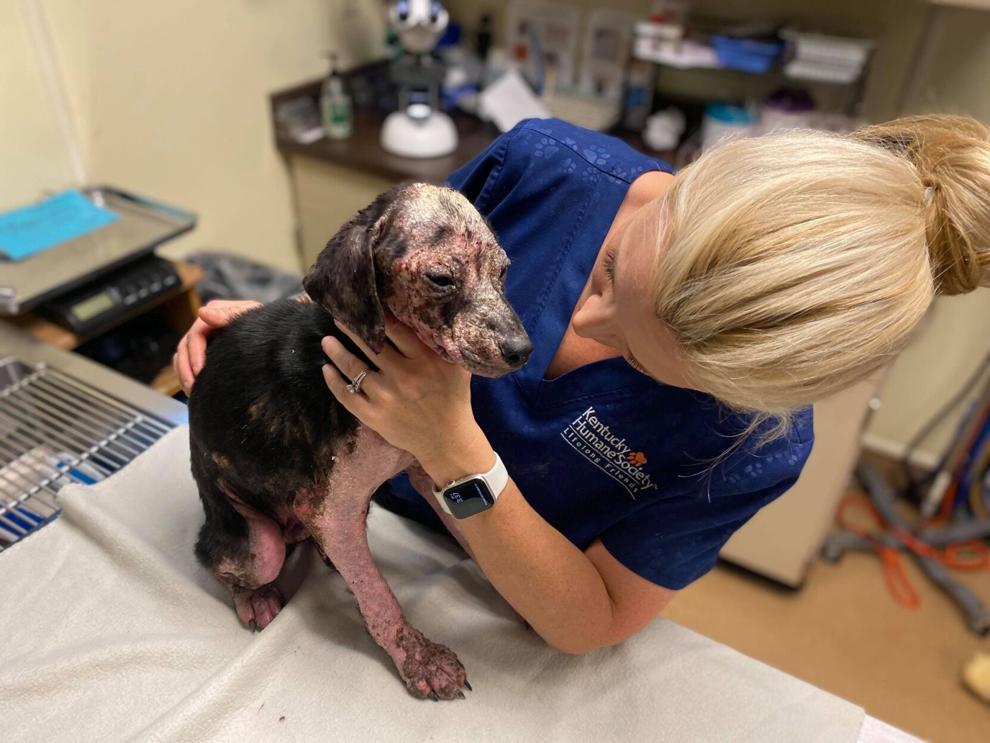 The agency estimates the puppy's age to be between 6-8 months and said he weighs only 15 pounds but has adult teeth, so his growth may have been stunted by lack of nutrition.
Surveillance cameras placed at KHS show a man fleeing the area at about 12:30 a.m. Friday.
"This puppy -- whom we have not named yet -- has a long road ahead of him," KHS posted.
Veterinarians are working to treat his infections and manage his pain.
The agency said it welcomes donations, which can be made by clicking here.
Copyright 2021 WDRB Media. All Rights Reserved.