SEYMOUR, Ind. (WDRB) -- It's been nearly one year since four Jackson County teenagers were hit and killed on a rural road, and the tragedy continues to impact the community. 
A group of nine kids were hit while pushing a stalled car down State Road 258 in Cortland, Ind., last August. Nevaeh Law, 14, Jenna Helton, 14, Martin Martinez, 16, and Brittany Watson, 15, were killed.
"It feels like I just got the phone call yesterday," Jacqueline Watson said. "It don't feel like it should be a year already." 
Waston's daughter was killed, and she still struggles with the loss. 
"I can't believe it's been a year since I hugged or kissed or seen my daughter," she said. "It just don't seem real at all." 
No charges have ever been filed for the crash, and Watson said that makes it hard to find closure and peace.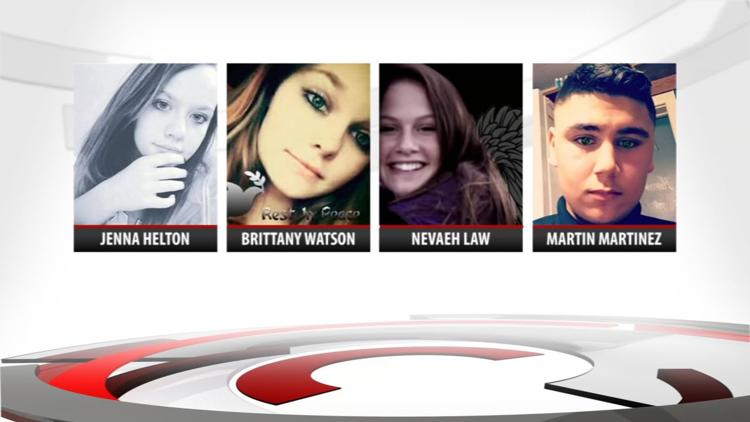 "I just don't think that justice has been served when it comes to this," she said.
Watson's daughter Brittany would've turned 16 this month, and they had big plans. To celebrate her life, Watson is hosting a fundraiser for Red Sky Animal Shelter this Saturday.
"That was her dream, to open her own shelter," Watson said. "So she wanted to volunteer there and learn as much as she could."
The memorial birthday party will be held at Brownstown City Park on Aug. 17 from noon to 5 p.m. Guests are asked to bring donations of food, supplies and monetary contributions to support the animal shelter. 
"Brittany would love to know that this Saturday is going to be able to help Red Sky in a big way," Watson said. "That would mean the world to her."
The community rallied around the families last year and has continued to show support. In addition to the birthday celebration, the second 4 Ever Young Memorial Ride is planned for Sept. 14. This year the ride is free. 
"I know we lost four good kids that were going to make a difference in the community," Watson said. "They were all really bright kids that had big dreams." 
Related Stories:
Copyright 2019 WDRB Media. All Rights Reserved.