WASHINGTON (WDRB) -- Wednesday was a solemn day in Washington with May 15 designated as National Peace Officer Memorial Day.
A crowd made up of roughly 25,000 surviving relatives, co-workers and friends of fallen officers was packed shoulder-to-shoulder to commemorate the lives of the men and women who lost their lives.
The families of Louisville Metro Police Det. Deidre Mengedoht and Charlestown Police Sgt. Ben Bertram, both killed in the line of duty in 2018, were both in attendance. And though they've never met or spoken to each other, they felt a kinship in the gathering.
"This was an incredibly powerful ceremony, an incredible honor for all of the fallen. There's so many names. So many names," said Lindsey Wolff, Bertram's sister. "To see all of this positive support around us during the ceremony — it was just nice. It was just nice to see positive around the police, not just negative all the time."
"There are thousands of people who have been through what we've been through, so I think that's the biggest support is knowing you are not alone out there," added Stacy Broadi, Mengedoht's aunt. "Even though she is gone, she really will truly be remembered by everybody who is here. So it's been a blessing and a treasure and really an honor to be here."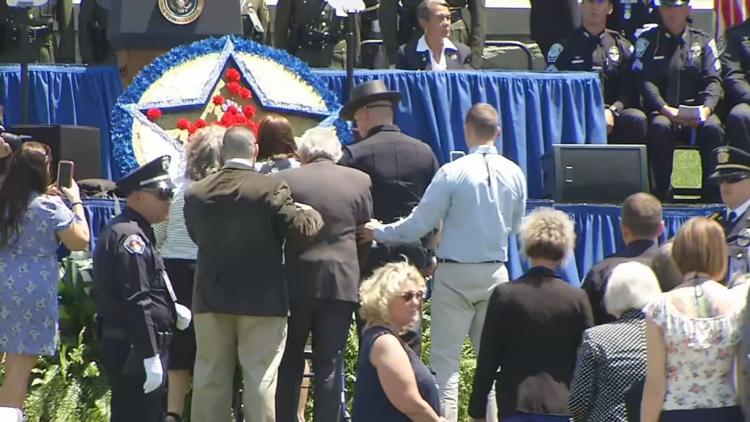 Nine officers from Kentucky and Indiana were killed in 2018. Mengedoht died after being hit by a utility truck on I-64 on Christmas Eve. Bertram passed away about two weeks earlier, crashing at the end of a chase.
The most powerful moment was the "Roll Call of Heroes," when the names of every officer killed in the line of duty last year in the U.S. were read aloud. As the names were spoken one-by-one, those officers' loved ones placed red carnations in a star to make a wreath in front of the Capitol.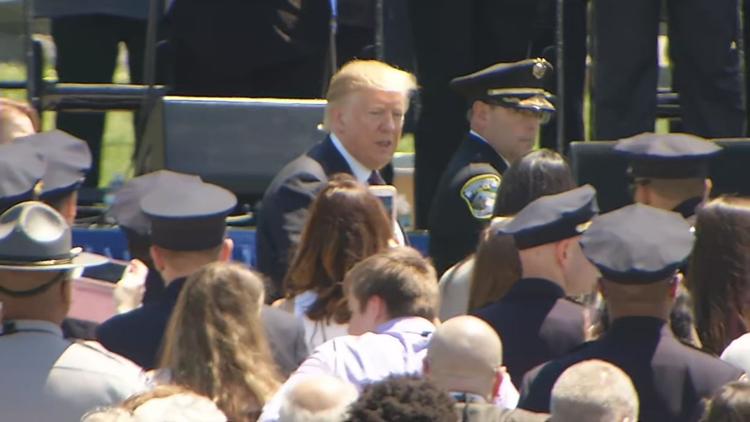 In his keynote address made during the ceremony, U.S. President Donald Trump talked about penalties for those convicted of killing officers, saying directly that anyone who shoots and kills an officer should be put to death upon conviction.
"Dangerous criminals must be punished to the fullest extent of the law," Trump said. "That's the only language they understand."
Related Stories:
Copyright 2019 WDRB Media. All Rights Reserved.