LOUISVILLE, Ky. (WDRB) -- The 10-year old boy who took his own life in Louisville will be remembered in a week full of events, aptly named "Seven Days for Seven Bridges."
His loved ones hope to turn tragedy into a movement for bully prevention and suicide awareness.
"I don't know if anybody else can feel what we feel, but there's a big hole," said Donnie Bridges, Seven's father.
News of Bridges passing has spread around the world.
On Tuesday, a fundraising page set up to help his family with expenses eclipsed its $60,000 goal. More than 2,000 contributed in just three days. Organizers say the GoFundMe account will help with funeral costs, lost wages, counseling for Bridges parents, legal fees and to formally organize #SevenStrong into a bully prevention and suicide awareness non-profit or foundation. 
Seven Days for Seven Bridges kicks off with a comedy show Thursday where Seven's mom Tami Charles will take the stage. 
"They wanted to celebrate him publicly," said Johnathan Johnson, an organizer and close family friend. "It is a part of her therapy. Laughter is good for the soul, and it brings healing to a lot of people."
On Saturday, there will be a vigil and balloon release in Shively Park, Seven's favorite. The public is a asked to bring a balloon with the number seven on it to release. 
A kid's benefit dance party will follow Sunday at the Millers Lane Warehouse located at 2501 Millers Lane in Louisville. 
Tuesday, Jan. 29, is set aside for the Seven Strong Anti Bullying Forum. It will be lived streamed online through Charles' Facebook page. 
"This panel will consist of community leaders, pastors, parents [and] educators that will come together and talk about the elephant in the room of bullying," Johnson said.
Seven's parents say he was bullied to death, born with a birth defect, choked on school bus and called a racial slur. Tami Charles said kids at Kerrick Elementary School, where Seven attended, were not always kind.
"On Friday, he came back, and I said, 'What's going on with you? You're kind of weird today,'" Tami Charles recalled. "'Nothing mom. Nothing.' And he just kind of leaned in."
She found her son's body the next day in a closet.
"If we don't talk about it, we are not going to make a difference," said Nancy Brooks Executive Director of the Louisville chapter of the National Alliance on Mental Illness. "Mental health is becoming a crisis in our community."
Seven was the eighth JCPS student this school year to take his or her own life, a number that has many parents asking how do you have this talk with your kids.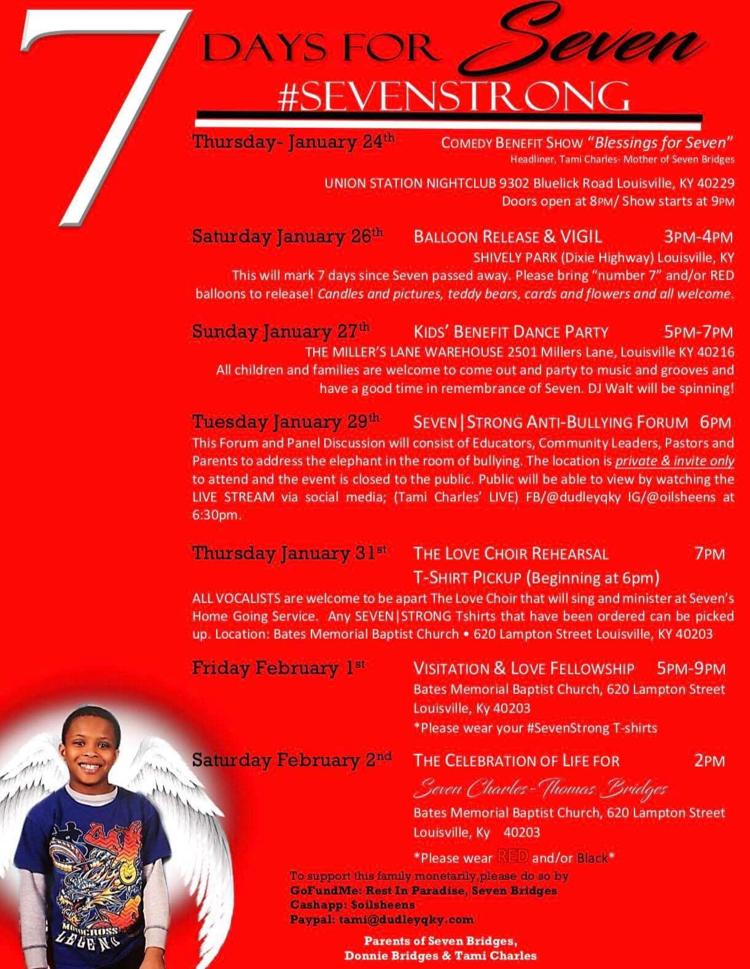 "Ask children to feel their emotions for them," Brooks said. "So (you) would say, 'How do you feel today?'"
Experts say that conversation should start as young as 5 years old.
It's too late for Seven.
"The bullies can now see their effect," Johnson said.
But loved ones hope Seven's loss can save another's life.
All of the Seven Days for Seven Bridges activities lead up to his funeral on Feb. 2 at Bates Memorial Baptist Church.
Related Stories:
Copyright 2019 WDRB Media. All Rights Reserved.