LOUISVILLE, Ky. (WDRB) -- The FBI is intensifying its search for a man on the run after threatening President Donald Trump and Kentucky Medal of Honor recipient Dakota Meyer.
Federal agents are looking for a 2001 Jeep Grand Cherokee believed to have been stolen by 26-year-old Shawn Christy in Adair County.
The green mail delivery truck is equipped with a black hood and has a Kentucky plate of 095WYT. It was stolen Thursday from the home of Timothy Gilliam, who is the brother of Dakota Meyer.
Gilliam arrived at his home on Brockman Keltner Road in Adair County, Kentucky, around 6:30 p.m. CST on Thursday to find his door kicked in. KSP troopers responded to the home and found someone had stolen food out of the refrigerator and driven off with the Jeep that had been in the garage.
"Somebody had, in fact, broken in the back window with a sledge hammer," said Trooper Nick Hale with KSP. "We went through the house, and all that was missing was food out of the refrigerator and a 2001 green Jeep Cherokee."
The Jeep was last seen on Interstate 64 headed east from Huntington, West Virginia.
KSP is sending the sledgehammer to the lab to be analyzed for fingerprints, but Hale said Christy was clearly caught in the act on security video.
"It fit his description. It looked like him," he said. "The guy kinda walked like him."
Gilliam showed police surveillance video that appears to be Christy, who is from Pennsylvania.
The FBI's Pittsburgh office is offering a $10,000 reward for information leading to the arrest of Christy. He faces federal charges for allegedly posting threats last month on Facebook.
According to the federal indictment, Christy posted the threats on Facebook between June 3 and 12, 2018, saying that he was going to shoot President Trump in the head, and was going to use "lethal force" on any law enforcement officer attempting to detain him.
[MOBILE USERS CLICK HERE TO SEE ALL THE SURVEILLANCE PICTURES OF SHAWN CHRISTY]
The FBI says Christy is believed to have numerous stolen handguns and should be considered armed and dangerous.
A Dodge Caravan Christy was believed to have stolen in Luzerne County, Pennsylvania, in July was found near Charleston, West Virginia, on August 2. A pickup Christy allegedly stole in West Virginia at the same time was found in Adair County, Kentucky, on August 4.
The FBI is asking the public to remain vigilant and report any sightings of Christy by calling 215-418-4000.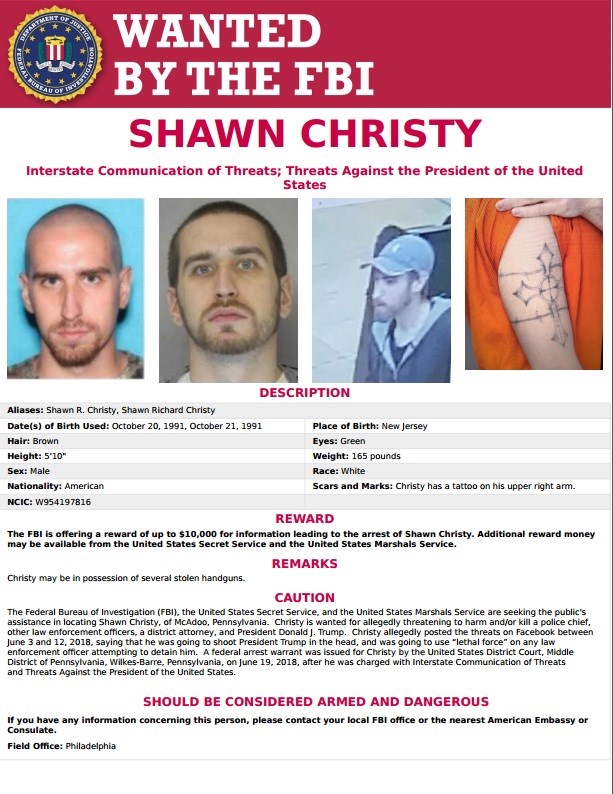 Related Stories: 
Copyright 2018 WDRB Media. All Rights Reserved.