LOUISVILLE, Ky. (WDRB) -- Many people go to a high school reunion, but have you ever heard of a 50-year class reunion for elementary school?
One JCPS class and their teacher reunited Friday for the first time since 1969.
Through the halls of Gilmore Lane Elementary School, it was a trip down memory lane for Linda Garvey (formerly "Miss Clausing") and her former sixth grade class.
"I can't believe I'm seeing you guys again. I haven't seen you since that last day of school," Garvey said. "It was such a special year, such a special class. I remember the tears on the last day."
It was 1969 when this group last saw each other. Some traveled from as far as Georgia and California.
"Back then, kids pretty much moved through grade school together. They stayed in the same class. So when we got to sixth grade, there was a lot of love in the room," said Ed Hudgins, who now lives in Shepherdsville and was able to track down all of his former classmates. "We decided to have this reunion and got the ball rolling on that, and then I heard that Gilmore Lane was going to close."
The elementary will shut down at the end of this school year, so the former classmates wanted to walk its hallways one last time.
"That's what people said: They're coming in for a sixth grade reunion?" Garvey said. "I said, 'You don't know how close we were.'"
The group pointed out their old classrooms and reminisced with plenty of laughs.
"It was that long-term memory kicking back in," said Brenda Bradshaw, who now lives in Atlanta. "I can't tell you all my children's names, but I can tell you where to find my fourth grade teacher's classroom."
So what made this class so special?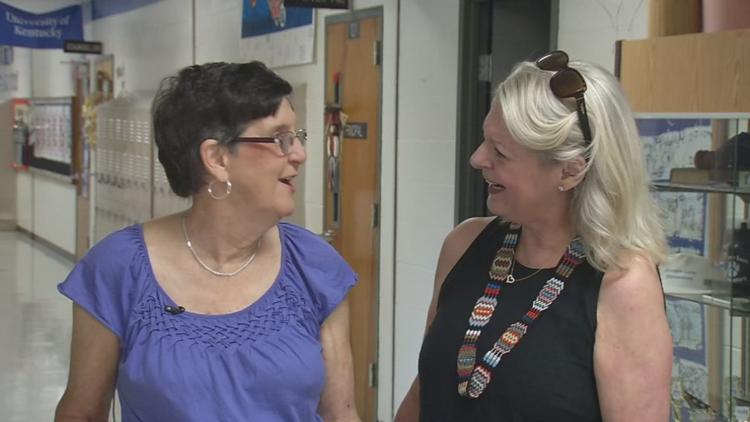 "(Mrs. Garvey) just made it fun, and we loved her, and she just loved us back. And so here we are 50 years later," Bradshaw said. "We're so happy. We just loved her."
It's a teacher who made an impression that will last longer than five decades.
"I can't even describe it. It's just touching," Garvey said. "I never expected anything like this, and I never thought I would see these kids again. I was so close to them, and it's really special."
Garvey retired from JCPS but still fills in as a substitute.
Copyright 2019 WDRB Media. All Rights Reserved.