LOUISVILLE, Ky. (WDRB) -- A Louisville emergency medical worker who treated the police officer who was injured the night Breonna Taylor was killed has been placed on leave after a social media post in which he called the officer a "monster."
Will Smith, in a Facebook post, commented on newly released Louisville Metro Police Department body camera footage that shows Sgt. Jonathan Mattingly just after he was shot in the leg during the raid on Taylor's apartment.
The post has since been removed, and Smith's current employer has placed him on leave.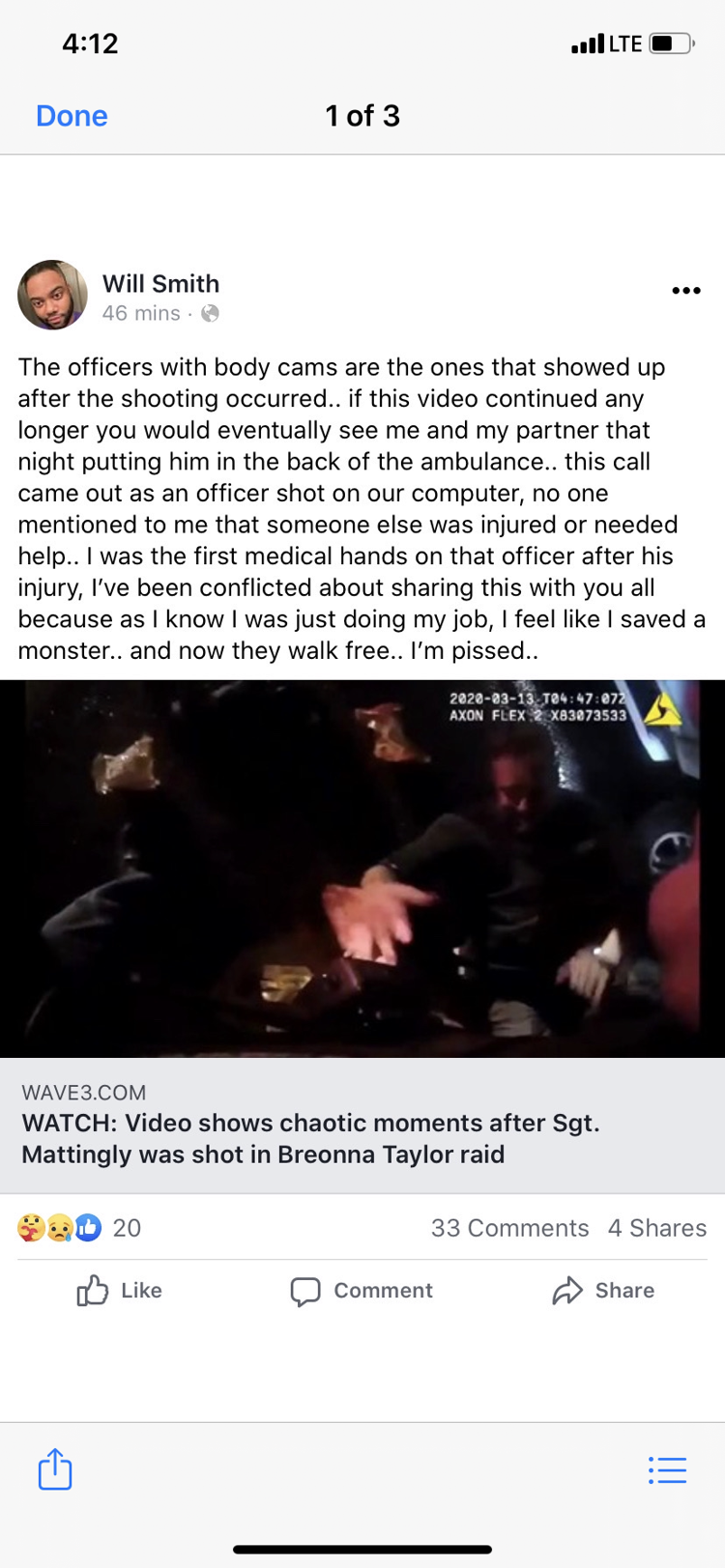 The shooting death of Taylor, a Black woman, at the hands of white police officers, has garnered national attention among more widespread calls for racial justice and has prompted protests in Louisville for months. A grand jury this week declined to indict any of the officers in Taylor's death. Kentucky's attorney general said the officers were justified in shooting because Taylor's boyfriend, Kenneth Walker, fired his gun first.
Smith said the newly released video was taken just before he and his partner put Mattingly in the back of an ambulance. Smith was working for Louisville EMS at the time.
"This call came out as an officer shot on our computer, no one mentioned to me that someone else was injured or needed help," he wrote.
"I was the first medical hands on that officer after his injury, I've been conflicted about sharing this with you all because as I know I was just doing my job, I feel like I saved a monster ... and now they walk free."
Smith's current employer, Norton Healthcare, said it has placed him on leave.
"The views of this individual do not reflect the views of Norton Healthcare. We are aware of the situation, and the employee has been placed on leave per our process," the health system said.
WDRB has reached out to Smith for further comment but he has not yet responded.
Meanwhile, Mattingly's attorney, Todd McMurtry, posted raw video of his client shortly after being shot on March 13 and said that Mattingly does not deserve criticism for defending himself.
"They called him a 'murderer,' when all he did was defend himself," McMurtry wrote.
McMurtry has reached settlements with major media outlets for Nicholas Sandmann, a former Covington Catholic student who said the media vilified him after he was approached by protesters at a rally in Washington D.C.
Copyright 2020 WDRB Media. All Rights Reserved.