LOUISVILLE, Ky. (WDRB) -- Matt Cappotelli, a former WWE superstar from Louisville who battled cancer two different times in the last decade died Friday.
Cappotelli's wife wrote on Facebook that her husband "went Home to be with Jesus...exactly one year after his brain surgery."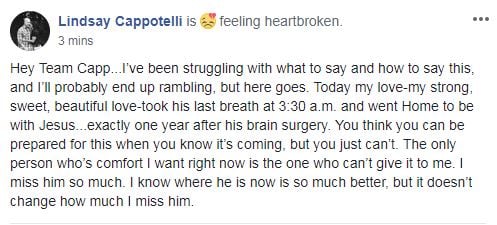 The subject of a WDRB News story in 2017, Cappotelli was diagnosed with a Grade 4 glioblastoma tumor, the most deadly form of brain cancer. His first battle with a brain tumor in 2005 was a drama-filled fight that played out as the world watched. Cappotelli won the "Tough Enough" reality show in 2003 and earned a WWE contract then was assigned to Ohio Valley Wrestling in Louisville as a developmental trainee. 
Cappotelli beat cancer in 2007, but it also ended his career in the ring. And then in June of 2017, surgeons removed 90 percent of the mass pressing on Cappotelli's skull. The remaining 10 percent was being treated with chemotherapy, but it was next to the brain stem, considered too dangerous to touch. It was considered terminal, and doctors said only 5 percent of patients survive five years. 
Cappotelli was 38 years old.
Related Stories:
Copyright 2018 WDRB Media. All rights reserved.