LOUISVILLE, Ky. (WDRB)-- What started as a good deed at Christmas time has morphed into a charity set on making life better for others. Now, the man behind Frankie's Family is hoping his mission sparks others to do the same.
Long after most people are home from with their families, Frankie Hilbert gathers his family to shop for kids they've never even met.
"That someone made sure they had a Christmas is honestly the best feeling in the world. That's all the Christmas I need," said Hilbert who started the non-profit four years ago.
His mission started as a simple good deed at Christmas time recruiting friends and family to help adopt kids from the Salvation Army's Angel Tree.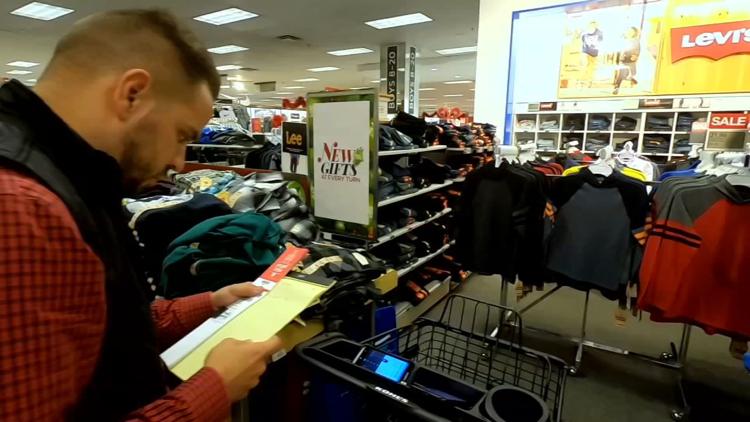 "Why couldn't I do something a little more. So I decided to create a go-fund-me and I had a goal of raising $1,500, do 15 kids," said Hilbert.
Instead, in just 10 days he raised $4,500 allowing him to adopt 45 angels. Since then he's raised more than $79,000 making sure nearly 800 kids have a merry Christmas. He's also added other outreach efforts throughout the year, like an annual coat drive.
"I had a vision and then I had a bunch of people help me execute. It takes a whole family to do it," said Hilbert.
This year's goal is $45,000 for 450 kids.
"So we like to spend $100 to $125 per child, just depends on their needs. And we like to make sure they get clothes and toys," said Hilbert.
Then comes the shopping. Volunteers help Hilbert carefully select items from each child's wish list.
"I love coming with my friends and shopping. We just get a list of kids and it's kind of cool to put your touch on things," said Ashley Ritchie who is volunteering for the third year as part of Frankie's Family.
"He give us a list, gives us an idea of what the kids might want, and we just go and we get to pick what we like," said Ritchie.
The feeling come Christmas morning, keeps her coming back.
"It's nice to know that whenever kids wake up, they're receiving gifts that I was able to have an impact on. It's just knowing the feeling they have is the feeling I had as a child," said Ritchie.
Hilbert doesn't expect every one to join his family, but he hopes that his work inspires others to give back.
"No matter what organization or who it is, just get out there and do something for someone this holiday season. That's what it's all about," said Hilbert.
Frankie's family is still fundraising and still collecting coats. Donations will be accepted through December 10th. Find information on how to give here.
Copyright 2019 WDRB News. All rights reserved.