LOUISVILLE, Ky. (WDRB) -- Thursday is considered the biggest day of local giving in Louisville.
By the afternoon, more than than 14,000 people had donated more than $5 million to local organizations in "Give For Good Louisville." 
"It is a big day for the Coalition," said Melissa Raley, director of development at Coalition for the Homeless.
Raley said Louisville's annual day of giving helps with the organization's mission of preventing and ending homelessness.
"Last year, we and all of our partners across the community moved almost 1,000 people from homelessness into permanent housing," Raley said.
Give For Good Louisville represents more than 500 nonprofits, but not everyone who is asking for money is legitimate.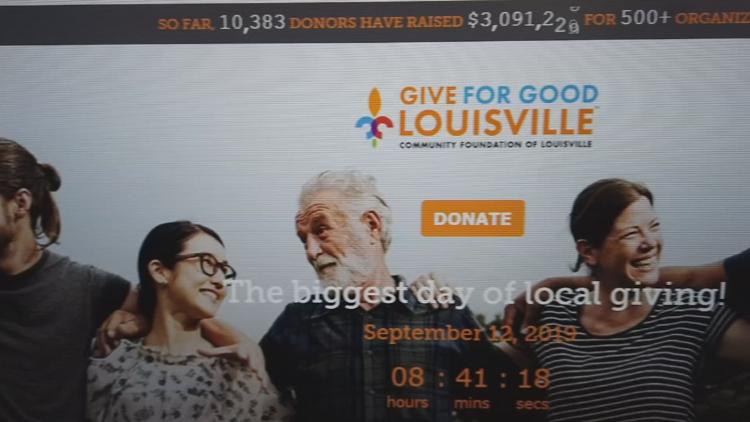 If you've driving through downtown Louisville or have a telephone, you're familiar with the competition: scammers and panhandlers.
"You pick the charity that you want to support," said Bruce Gadansky, chief operating officer of the Better Business Bureau.
Gadansky said from panhandlers to phone scammers, there's a lot of people asking for money.
"It's all a matter of do you feel like that's a reasonable thing? Let me give this guy a buck or two," Gadansky said. "Or, no, I am not going to do that, because I don't know that guy. For all I know, he might drive a Mercedes."
But the "Give For Good Louisville" donations have helped many people at their worst times.
Three years ago, Crystal Lovings was pregnant and living on the streets of Louisville when the Coalition for the Homeless stepped in.
"I was homeless during pregnancy," she said. "They were able to help me find the housing that I needed."
And that's why Raley hopes you'll give before the deadline.
"We are hoping to raise at least $10,000," she said.
To donate, click here.
Copyright 2019 WDRB Media. All Rights Reserved.