FRANKFORT, Ky. (WDRB) -- On Thursday afternoon, a bipartisan group of Kentucky lawmakers, led by Governor Andy Beshear, explained their support for House Bill 137.
The lawmakers said Kentucky took a big loss on Super Bowl Sunday, but they believe HB 137, which unanimously passed a House committee, would prevent that from happening again.
"I was at a Super Bowl party with friends and as we are sitting there, somebody pulls out a set of tickets," Beshear said. "I will say as governor, every time he flipped it, in my mind, I was seeing how many dollars we lost."
Beshear and lawmakers on both sides of the isle want a piece of the action for Kentucky.
"This past weekend, we all got a reminder of what we lost out on by not having sports betting in Kentucky," Beshear said. "By not having this in place, this Super Bowl, we lost out on a lot of tax revenue."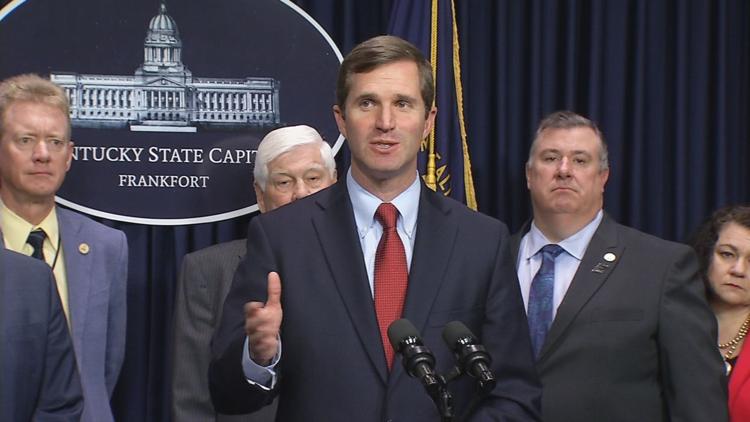 According to the American Gaming Association, $270 million and counting was wagered on Super Bowl LIV. Lawmakers believe HB 137 would generate as much as $22 million in new revenue.
"Citizens would be able to go to one of the existing race tracks and the Kentucky Speedway, as a major league sporting venue, and either place their bets there or register to download an app," Rep. Adam Koenig said.
Yet despite the bipartisan support, not everyone wants lawmakers to roll the dice on HB 137.
"We are against the policy that rips off Kentucky families, particularly the poor," said Kent Ostrander, executive director of the Family Foundation of Kentucky.
Ostrander said HB 137 not only violates the constitution, but he said it would hurt Kentucky families.
"What you heard in there was everyone talking about all the money that Kentucky was losing," Ostrander said. "But all that money is coming from Kentucky families."
If the bill clears the House, it moves on to the Senate. 
Copyright 2020 WDRB Media. All Rights Reserved.