FRANKFORT, Ky. (WDRB) -- Gov. Andy Beshear said Kentucky now has enough personal protective equipment (PPE) to ride out another surge in COVID-19 cases.
On Monday, Beshear accepted a donation of 2 million masks from the Ford Motor Co. to add to the Department for Public Health warehouse.
"As of today, Kentucky's inventory of crucial PPE is at its most secure state since this pandemic started," Beshear said following a tour of the warehouse.
He was accompanied by First Lady Britainy Beshear, Lt. Gov. Jacqueline Coleman, Public Health Commissioner Dr. Steven Stack and Emergency Management Director Michael Dossett.
The rows stacked with personal protective equipment are a far cry from the early days of the pandemic when the state was scrambling to meet the growing need. Hospitals, nursing homes and first responders were quickly running low as the number of Covid cases grew.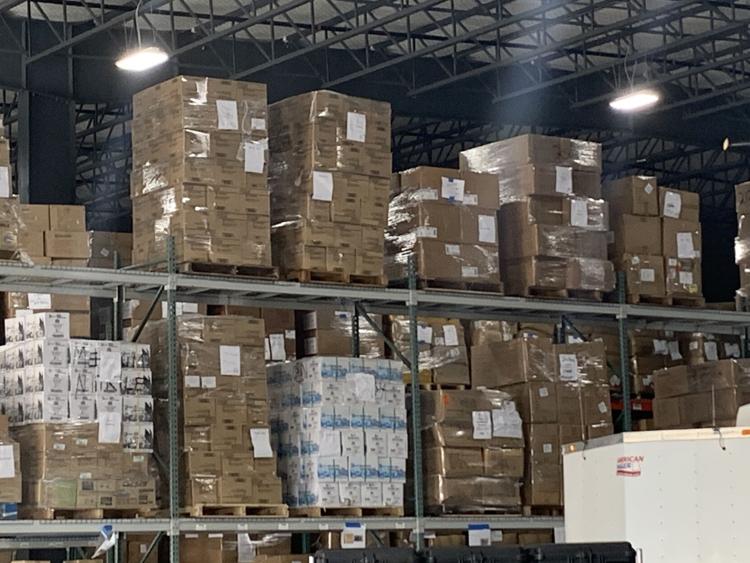 "When it came to PPE, we were in very dark days," Beshear said.
Stack said he realized the scope of the crisis during his first visit to the warehouse in March. He said there were too many empty shelves
"When we looked at the scope of a statewide, nationwide and international crisis, the amount of resources we had clearly was not sufficient to the task," Stack said.
Over time, the state was able to find suppliers, and both private corporations and individuals stepped up to donate.
The warehouse and an adjoining space are now filled with an inventory of:
Gloves: 7,425,257
Face shields: 1,261,766
Surgical masks: 11,279,861
N95 masks: 930,110
Gowns: 1,305,556
"This is a 120-day supply in the event of a surge," Beshear said.
Beshear said the only PPE concerns right now are N95 masks and high-grade medical gowns.
"Until we have a vaccine that is proven and effective, until we have enough people who have taken it to protect us, we're going to continue to worry about PPE, even if we have 120-day supply," he said.
Beshear said, at this point, the big issue is not finding a mask but being willing to wear one.
"Wearing one of these is not a political statement," he said. "It is not a political tool. It's the very least you can do to protect the lives of other people around you."
With the PPE crisis apparently resolved, Beshear said the challenge for every Kentuckian going forward is endurance as the pandemic stretches into the fall and winter months.
Copyright 2020 WDRB Media. All Rights Reserved.