FRANKFORT, Ky. (WDRB) -- Gov. Matt Bevin got a warm reception from the assembled lawmakers at Thursday night's State of the Commonwealth address, despite a relationship that is sometimes tense.
It was a relatively short speech, about 45 minutes, much of which was devoted to highlighting accomplishments.
"The state of the commonwealth is strong," Bevin said. "Very strong."
Bevin touted the economy, crediting the right-to-work law with attracting business and creating jobs.
"We've seen 49,870 jobs created," he said. "New jobs in Kentucky."
Bevin talked about efforts to cut red tape, build infrastructure and fund education.
"There is more money per pupil being budgeted for K-12 education, per pupil and in absolute dollars, than every in the history of Kentucky. Ever," he said.
And as he displayed photos of the students killed at Marshall County High School in January 2018, Bevin encouraged the final passage of the school safety bill.
"I want to thank you personally on behalf of these families and on behalf of every student and every teacher and every administrator and every parent in Kentucky," Bevin said.
But he also touched on things not yet done, including pension reform.
"I applaud you, as we address this, for the fact that we have started to pay as we go, but we must do more," he said. "There's still a need for structural change on a going-forward bases. There has to, or the money will not be there."
Bevin received a standing ovation when he applauded lawmakers for passing bills restricting abortion. But he took a shot at Attorney General Andy Beshear, who wants Bevin's job, for not defending those laws against court challenges.
"These are laws that certain constitutional officers have a sworn responsible to defend," Bevin said. "They are choosing not to do so."
And after the speech, Beshear blasted Bevin and defended himself.
"The constitution provides a choice tat I believe is between a woman and her doctor for at least the first two trimesters of pregnancy," he said. "And I'm going to enforce that constitutional right."
Otherwise, the reaction to Bevin's speech generally fell along party lines.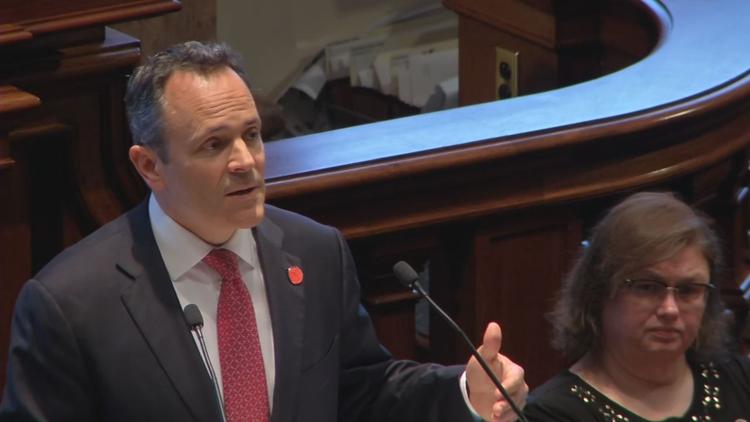 "With jobs, strong jobs, more money in people's pockets, we have stronger families and stronger communities," Rep. Jason Nemes said. "And I'm glad we heard about that tonight."
"It's what I didn't hear tonight. I didn't hear a vision going forward in the next few months, even the next six months," Sen. Morgan McGarvey added. "There was no legislative agenda."
Copyright 2019 WDRB Media. All Rights Reserved.