ELIZABETHTOWN, Ky. (WDRB) -- Hardin County School Board candidate John Flanagan is defending some controversial posts he shared on social media.
In one post on Facebook, Flanagan, a candidate for Division 1 in the north part of the county, shared a meme that pictured Willy Wonka and read, "Oh, you went to North Hardin High School? Please tell me about how thug you are."
"I read some of them (memes) wrong, responded wrong," Flanagan told WDRB News. "Other ones, because of the screen, I didn't see all of the words in the meme."
When asked if he believed North Hardin High School graduates or students are thugs, Flanagan said he does not think that in the slightest.
"No," he said. "Hell no. Gee. We've got some great kids."
He called the post "sarcastic."
"Come on. I'm from Brooklyn, New York," he said. "I've been around thugs all my life ... I know those folks in there. They aren't thugs. Sometimes we've had some issues, but that was cleaned up a long time ago."
Another post Flanagan shared read, "Black Crime Matters. You can't worry about black lives if you aren't worried about black behavior."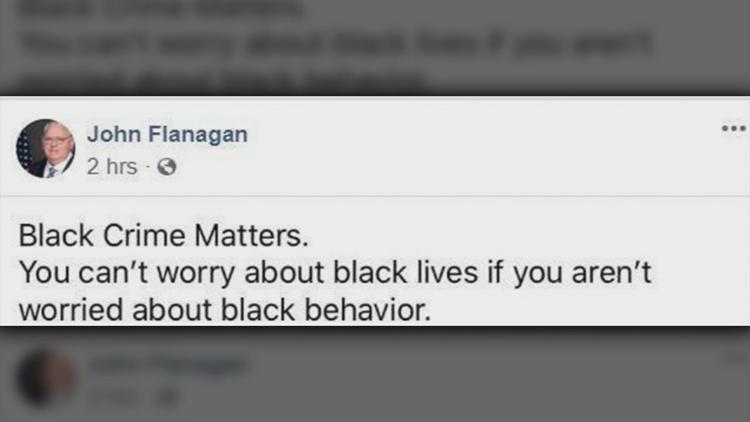 Flanagan said he recognizes some of the posts and things he shares could be offensive and apologizes for the way some perceive them. However, he said sometimes he doesn't realize what some of the memes say because he makes mistakes at times.
"That's just who I am," he said. "Do I make a mistake? Yeah, every once in a while. Do I misread something? Yeah, I do. But when I find out about it, I apologize."
Flanagan's only opponent in November is Mark Casey.
"While I've been focused on preparing to serve the students in our community, he's been posting other things that probably aren't appropriate," Casey said. "I'm running a clean campaign, and I refuse to say anything negative."
Casey mentioned that these may be seen as jokes to some people but not others.
"I think most of the people that saw it did not see it as a joke and took it offensive," he said.
The two will square off for the Division 1 school board position in November.
Flanagan is apologetic for those who are offended by his posts but said it shouldn't deviate from his mission to serve the school district and it's taxpayers.
He's concerned with the performance of schools in the northern Hardin County and wants to spark change.
"I'm tired of our schools getting shortchanged," he said. "When you look at it over time, the north end is that way."
Copyright 2020 WDRB Media. All Rights Reserved.