FLOYD COUNTY, Ind. (WDRB) -- Drivers traveling on Highway 111 headed to Horseshoe Southern Indiana have been unable to get there because of flooded roadways.
The casino has been closed since Tuesday. In a release, Horseshoe said all promotions, events and entertainment are canceled through at least Feb. 15. 
One group came all the way from Tennessee, but on Wednesday they were told to turn around by Floyd County EMA Director Kent Barrow, who was stationed where the water met the road.
"If they've got small vehicles, they're not going to make it," Barrow said.
To get to that point, drivers would already have had to go around a road closed sign about a mile down the road.
"I know it's an inconvenience for people to have to drive around and take an alternate route, but that's what we ask people to do," Barrow said.
While Barrow turned all the cars around, he wasn't able to stop a truck coming from the other direction. The truck was able to make it all the way through, but Barrow said you shouldn't take that risk.
"You're not only putting your life in danger," he said. "You're putting other's lives in danger, and it's just not worth it."
The county also uses swing gates to close roads that have become flooded. On Tuesday, Barrow said someone cut the lock on one of the gates so they could drive through the flooded road.
"When someone does that, and they have a larger vehicle and able to make it through, the next person that comes through may not," he said. "And so they're putting someone else's life in danger when they do things like that."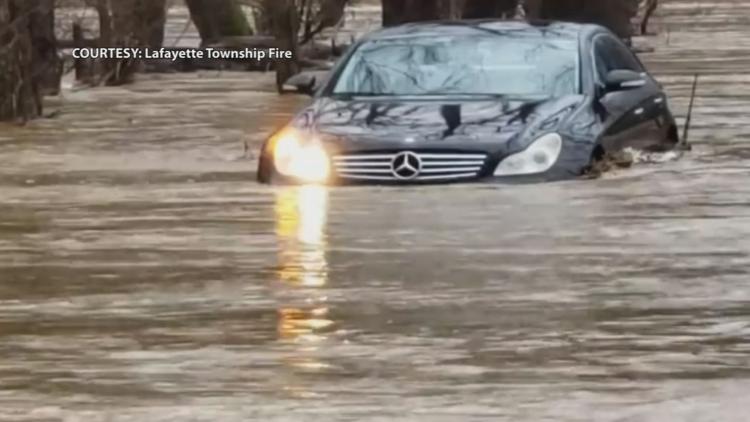 The lock has since been replaced. He said anytime there's water covering the road, just don't go through it, because there is a high chance you will need emergency help.
"Just turn around, and don't drown, and don't cause our responders to have to get out and do water rescue," Barrow said,
You can call the sheriff's dispatch before heading out to find which roads have been closed.
Related Stories:
Copyright 2019 WDRB Media. All Rights Reserved.