LOUISVILLE, Ky. (WDRB) -- An officer from Louisville's juvenile jail lost his job for working private security while he was supposed to be on the clock at youth detention services. 
WDRB obtained court records dating back more than a decade which suggest that officer should never have been hired in the first place.
Chris Cole worked as a court process officer for Louisville Metro Youth Detention Services, delivering documents and transporting teenage inmates. On July 17 he pleaded guilty to official misconduct and theft by failure to make required disposition of property.
The charges were reduced from a felony to a misdemeanor in a plea agreement reached with the Jefferson County Attorney's office.
Cole confessed to working a private security job while on the clock at the jail. It's known as "double dipping," and according to a citation Cole did it from December 2017 to October 2018. 
On Monday, he spoke to WDRB by phone.
"I didn't steal anything from nobody. I'm not a thief." Cole said. "Metro Government has got more than their 40 hours out of me in a week's time. So let's get that straight."
Cole said he made an agreement with his supervisor to come to work early and leave early. What's more, he said it's commonplace and many court process officers work freelance jobs. 
"But because some of the upper management with YDS are dishonest, they can't keep track of paperwork," Cole said. "They can barely do the position that they hold — is why this come about."
Court documents lead to questions about whether Cole was eligible for employment as a sworn officer at the juvenile jail. He lost the right to serve in law enforcement in Kentucky after a 2005 theft case.
Cole was accused with another officer of stealing CD players from cars at a auction lot while working for the West Buechel Police Department. Court records show prosecutors dropped charges against him in return for his agreement not to work as a peace officer in Kentucky.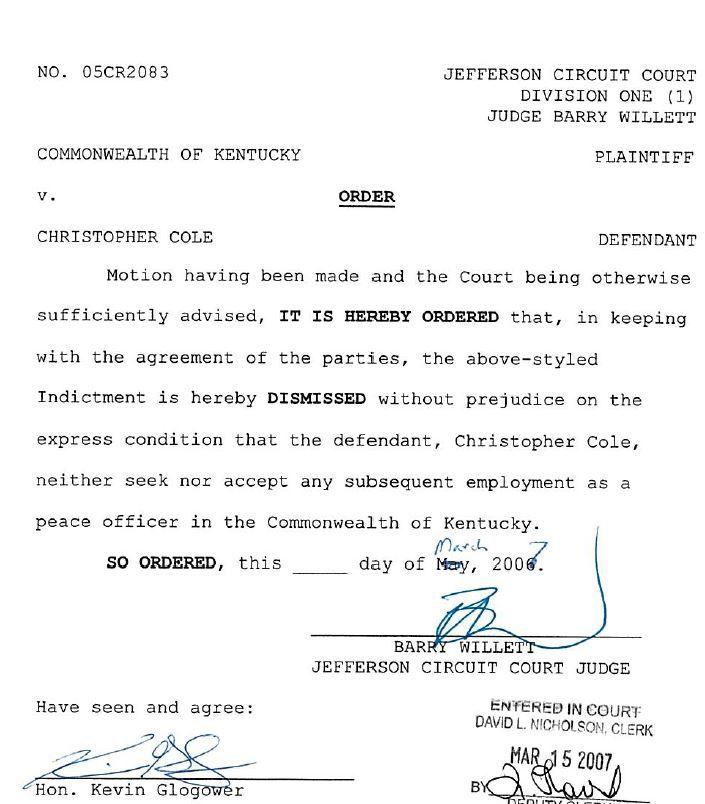 "All that stuff was dismissed, and I filed for an expungement, and all that was noted up front when I applied for the position," he said. "So it wasn't like I hid anything."
Cole left Kentucky for years working in small town police departments in West Virginia.
He resigned as chief of the Kenova Police Department in West Virginia in 2016, citing his health. Approximately eight months later, he popped up working at the juvenile jail in Louisville.
Louisville Metro Council President David James said Cole should never have been given a job here, calling it a "leadership failure."
"Absolutely there's a problem with that," James said. "There's a problem that we hired him. I'm not sure why we did."
Poor management was one of the reasons some Metro Council members voted to pull funding from Youth Detention Services. The juvenile jail is slated to close at the end of the year, with its remaining teenage inmates being transferred to other facilities throughout the state.
Cole says he took a deal because he couldn't afford to fight the matter in court. He was given a suspended 1-year sentence. Metro Government terminated him. 
"I'm not going to be a police officer anymore in my life," he said.
Copyright 2019 WDRB Media. All Rights Reserved.