NEW ALBANY, Ind. (WDRB) -- Whether he's at the mall or your town's Christmas tree lighting, he has a commanding presence everywhere he goes.
"He's nice," said one southern Indiana child.
"I gave him a hug," added another.
They're talking about the jolly big guy with the white beard, red suit and rosy cheeks. Maybe you know him as Kris Kringle or old St. Nick, but everyone calls him Santa Claus.
In the weeks leading up to the big day, every good boy and girl knows the real Santa has a "to-do list" that's about a mile long at the North Pole.
"Obviously, he's got a lot to do and not much time to do it in," Delbert Hillegas said.
So Santa enlists the help of several special elves, that look a lot like him, to suit up and stand in. Hillegas is one of them.
"It's good to have us down here doing this kind of stuff," Hillegas said. "It's wonderful to see the kids and to talk to the kids and to hear their hopes and dreams."
Hillegas, like many of the Santas you see each year, takes pride in getting rid of your "resting Grinch face" and getting you into the holiday spirit. So much so that they go to "Santa school" to keep getting better.
They are signing, listening and learning up north. Not quite as far as the Claus residence, but in Midland, Michigan.
"They taught us about reindeer," Hillegas said. "They taught us about the history of Santa Claus."
Surprisingly, nutrition is also in the lesson plans.
"You've got to be a bit more fit and in better shape," Hillegas said.
All those milk and cookies apparently take a toll.
No travel time or money spent is too much for the jolly guys that are obviously dedicated to their craft.
"It's the most joyous feeling you can have, just because you're doing something so good," Hillegas said.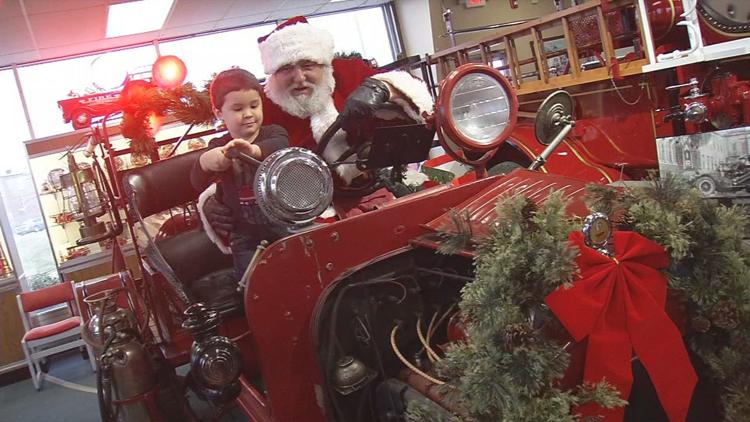 It's called laying the ground work, so when their doppelganger flies into Louisville and says Merry Christmas to all, it won't only be a good night, but another great season.
Copyright 2019 WDRB Media. All Rights Reserved.