CLARKSVILLE, Ind. (WDRB) -- Brent Poyner has established himself as a Clarksville fixture.
He's been in business 46 years selling fish, gerbils and lizards long before the space was ever considered for any mall or business. 
"Where River Falls Mall is, all the way back, was nothing but a swamp," Poyner said of the day he opened up shop.
He also witnessed the decline of the mall and a move north by several Clarksville businesses.
"Walmart moved back to Veteran's Parkway," he said. "Target was up here. They moved back to Veteran's Parkway."
No one complains about economic growth, but it appears to have kind of stunted the southern Indiana town in its original shopping and eating corridor: Lewis and Clark Parkway.
"It seems like once a business leaves, then they have a hard time getting anything to go back in behind it," Poyner said.
The empty signs and store fronts prove it. Town leaders are well aware of what's happening, have been studying it and are making moves to change it.
"The town is working to acquire a portion of the River Falls Mall site to help assist in this redevelopment," Clarksville Redevelopment Director Dylan Fisher said.
It's also holding information sessions asking for input from the community.
"We had over 100 people out (Monday) night," Fisher.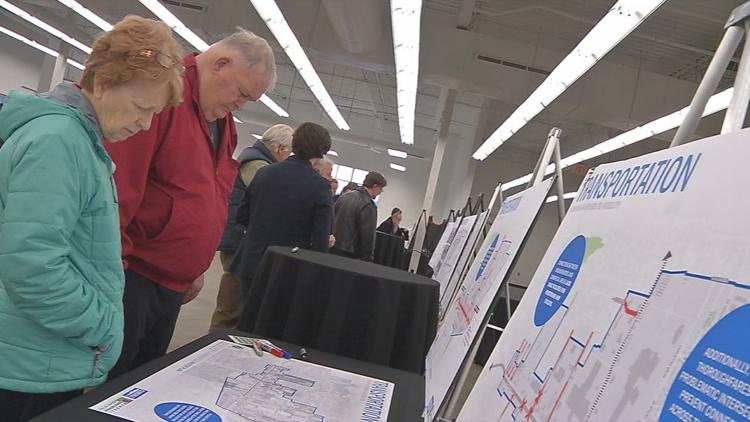 There are several options now on the table for some of the abandoned space.
Early ideas include housing, commercial office space, mixed-use buildings, green space and even some manufacturing businesses.
"There are some ideas on the table that have been brought up by town council, planning commission and elected officials, but then there are also ideas that are being reinforced by the public," Fisher said.
Poyner doesn't care what goes in just as long as it's a good neighbors to the business he loves.
Copyright 2020 WDRB Media. All Rights Reserved.