FRANKFORT, Ky. (WDRB) -- Hundreds of people gathered inside the Kentucky capitol Wednesday for a Right to Life rally the day after it was discovered that Gov. Andy Beshear may allow an abortion clinic to reopen.
The rally, which is scheduled every year during the Kentucky Legislative session, was attended by many Republican lawmakers, including Senate and House leadership.
"We've sent many pro-life bills to the governor's desk, and with your help, we will continue to be the champions of those issues," Kentucky Speaker of the House (R) David Osborne told the crowd. 
The rally came as it was revealed on Tuesday that Beshear's administration would allow Planned Parenthood in Louisville to reapply for a license to perform abortions.
Last year, former Gov. Matt Bevin's administration rejected Planned Parenthood's application on the basis that it had performed at least 20 abortions illegally. In a letter earlier this month to Planned Parenthood, the Beshear administration said it found that the organization had not violated any rules. It has already submitted its application to begin performing abortions again.
"Anyone applying has to satisfy all of the different obligations under the law," Beshear said. "That application will go through the normal process, and if it meets it, it will be a legal facility."
Beshear was the target of many of the speeches at the rally Wednesday as he's a largely isolated Democrat with Republicans holding majorities in both the House of Representatives and Senate. He was criticized by many for his actions as attorney general for fighting several laws passed recently by the legislature in court.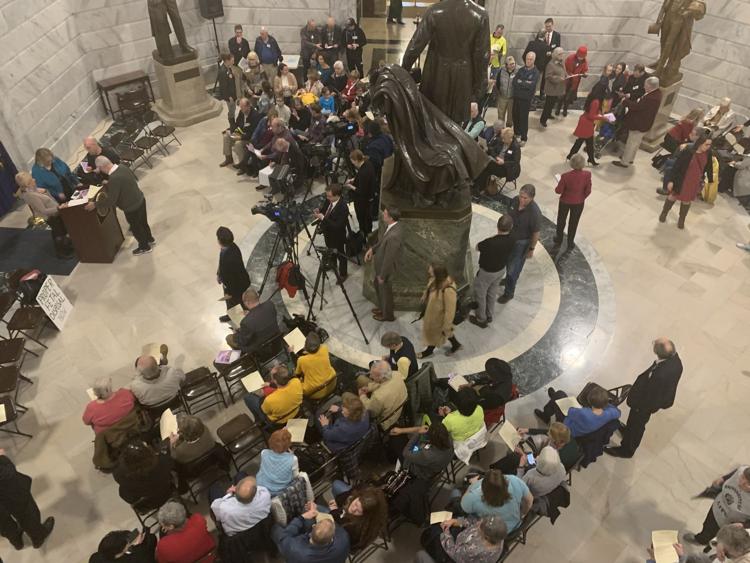 Attorney General Daniel Cameron, a Republican, vowed to defend laws which would restrict abortion access.
"I am proud to stand here before you to say that I will be an attorney general that will always stand up for the rights of the unborn," Cameron said to applause. 
Planned Parenthood of Indiana and Kentucky first began performing abortions at the facility while it applied for a license under the guidance of the Cabinet for Health and Family Services at the tail end of Gov. Steve Beshear's administration. In a Jan. 29, 2016, letter, the cabinet ordered the organization to stop performing abortions and said that its license application was "deficient for multiple reasons."
Copyright 2020 WDRB Media. All Rights Reserved.