LOUISVILLE, Ky. (WDRB) -- Indiana Gov. Eric Holcomb has signed a hate crimes bill that lawmakers passed Tuesday.
But, while Indiana has been removed from the list of five states without a hate crimes law, some say the measure does not go far enough.
Senate Bill 198 allows judges to impose stiffer sentences on those who commit crimes based on the victim's color, creed, disability, national origin, race, religion or sexual orientation.
Floyd County Republican Chairman Shawn Carruthers is pleased a bill finally made it through the legislature.
"We move off of that list of states without a hate crimes bill," Carruthers said. "The voters across Indiana have long supported having a hate crimes bill. The lawmakers just weren't able to come to agreement on anything."
But for some, the agreement falls short, because the bill does not specifically include crimes based on age, sex or gender identity.
"It may so-called get Indiana off the list, but it doesn't accomplish the goals that so many Hoosiers and so many civic organizations laid out for this legislation," said Evan Stoner of Jeffersonville Pride.
Senate Democratic Leader Tim Lanane said the bill is too vague to be effective.
"There's a lot of what I would describe as legal gobbly-gook in there, which we're not sure how judges are going to interpret that and prosecutors are going to interpret that," Lanane said.
The bill's sponsor, Republican Sen. Mike Bohacek, pushed back against critics.
"This is not a racist bill," he said. "This is not a homophobic bill. This is a bill to get bias crimes protection for every person in the state of Indiana."
But even some supporters agree that lawmakers will likely revisit the hate crimes issue in the future.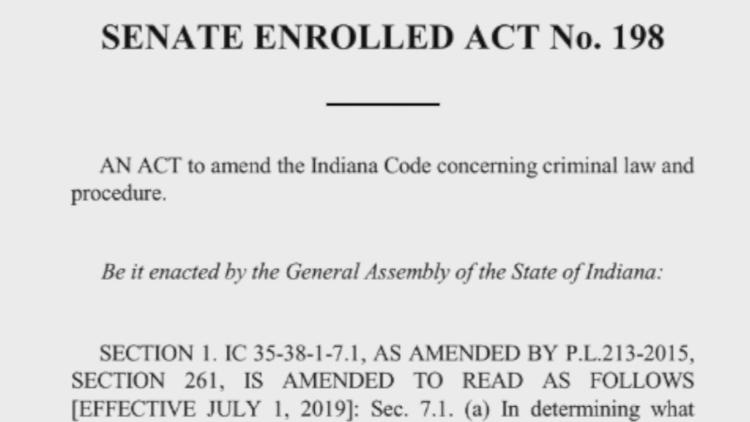 "We all agree that we should have a hate crimes bill," Carruthers said. "How it should look is still up for debate."
Copyright 2019 WDRB Media. All Rights Reserved.