LOUISVILLE, Ky. (WDRB) -- A 19-year-old who is accused of leading police on a chase that ended in a crash killing two people in Madison, Indiana, in January was served with a warrant Monday charging him with reckless homicide.
Blake Coombs also faces two counts of resisting law enforcement causing death, police said.
Indiana State Police said in a news release that Coombs led officers on a chase through southern Indiana in the afternoon of Jan. 9 before he lost control of his vehicle on state Route 256 in Madison. The vehicle left the road and hit two utility poles.
The front passenger, Tyler Cooley, 18, of Hanover, and a backseat passenger, Brooklyn James 19, of Madison, died in the crash. Coombs was airlifted to a Louisville area hospital with serious injuries.
"It's a tragic situation for everyone involved," said Sgt. Stephen Wheeles with Indiana State Police. "The two young people lost their lives, and obviously, the family and friends are having to deal with that, and we understand that. We had law enforcement and first responders that had to respond to a scene like that."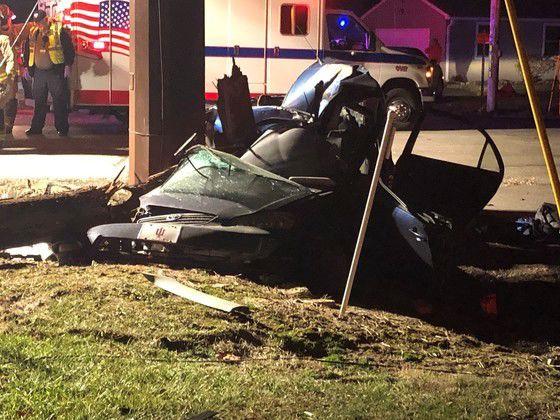 Wheeles said the chase started after "the office had observed a couple different traffic  violations." Police said Coombs was unlicensed and that blood tests showed he had controlled substances and marijuana in his system at the time of the crash.
ISP said officers served the warrant Monday at Pendleton Juvenile Correctional Facility, where Coombs has been held on an unrelated charge since being released from the hospital.
Police said that Coombs will "soon" make an initial appearance in Jefferson County Circuit Court.
"At some point, he's going to be transferred back to Jefferson County, Indiana, to circuit court, where he'll have his initial appearance in court," Wheeles said. "That has not happened yet, as far as I'm aware."
Related Stories:
Copyright 2020 WDRB Media. All Rights Reserved.