LOUISVILLE, Ky. (WDRB) -- Four Kentucky State Police troopers were caught in an illegal steroids operation buying testosterone from doctors in Florida they'd never met.
A WDRB News investigation found Troopers Jason Carpenter, Chad Peercy and Jonathan Sizemore as well as Sgt. Anthony Trotter were never charged or fired for the crime, and top officials in state police did everything they could to keep the case files hidden.
"This isn't about just this case," former KSP Deputy Commissioner Alex Payne said. "KSP did not want any internal affairs cases getting out — period — because the thinking was that if one ever got out via open records request then that would open Pandora's Box, and all of them would be liable to get out."
The documents eventually obtained by WDRB News show the U.S. Food and Drug Administration tipped off KSP commanders in 2017. FDA investigators said the four troopers were among hundreds of people receiving prescriptions illegally for testosterone and human growth hormone from physicians more than 1,000 miles away.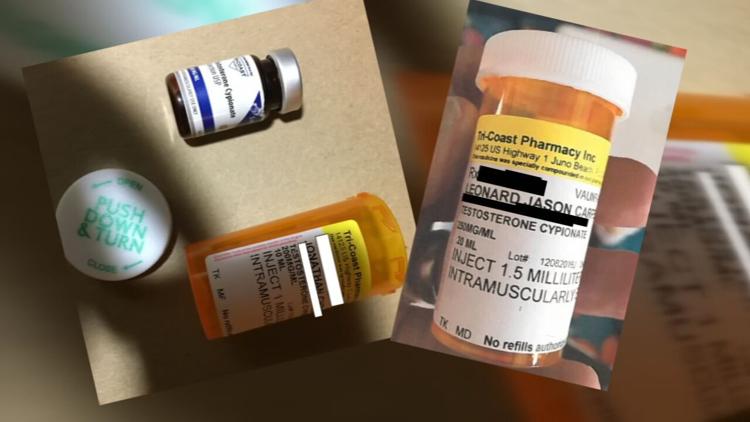 It was a felony offense and broke state and federal laws, because the patients never had a face-to-face examination with the prescribing physician as required to obtain these types of drugs. The FDA compared one prescribing operation to a "pill mill" with a "facade of legitimacy." The operation required a blood test, but the FDA said it treated people more like customers than patients. It even incentivized customers to recruit others by rewarding them with free treatments.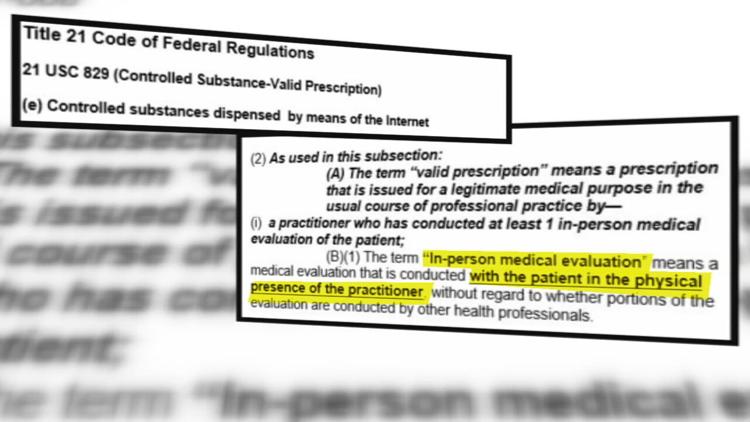 When questioned in KSP internal affairs interviews, all four troopers admitted their guilt but said they did not know what they were doing was illegal.
"I did think it was kind of shady, but I didn't think it was illegal," Sizemore said in a recording obtained by WDRB News. "I know ignorance is no excuse for the law ... I messed up."
"I wish it just wouldn't have been out of state. I wish it had been a regular doctor," Trotter said in a separate internal affairs interview. "I truly thought it was legal ... Obviously, something's wrong with it, because I'm here now."
"I'm as guilty as all get out," Peercy echoed in his interview with internal affairs. "I would not have went through that much or spent nearly all that money if I knew I was gonna get in trouble."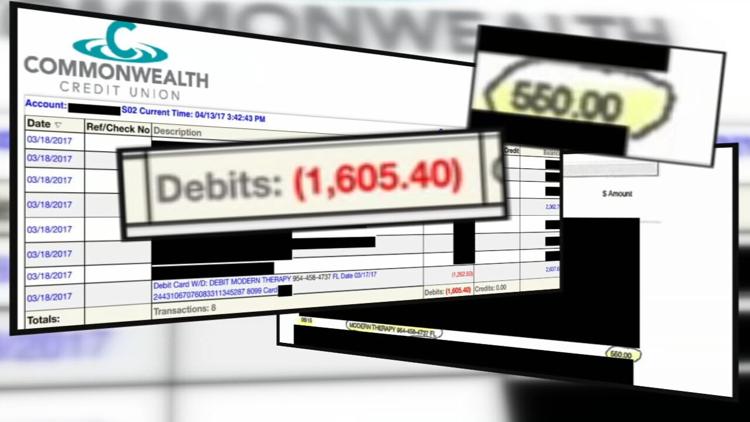 Bank records in the investigative file revealed the troopers routinely paid $500 and sometimes more than $1,000 per purchase for prescription cycles lasting two to four months.
"I would not have done it if I knew it was illegal," Carpenter confessed to the state police investigator. "No. 1, I wouldn't jeopardize my career. No. 2, I wouldn't jeopardize my reputation."
No Charges
The FDA wanted to pursue a case against the physicians and the pharmacy used in the operation and decided not to prosecute the troopers. The feds left state charges up to local authorities, but the agency decided not to pursue charges against its own, and all four troopers kept their jobs.
"Troopers are a microcosm of our community. They're human beings, and they make mistakes," said Rick Sander, commissioner of KSP at the time. "I, as the commissioner, had to decide, 'Is that mistake worth taking a career away from a trooper that may have been a good trooper for a number of years but made a mistake?'"
In the recordings, the officers gave varying reasons for why they felt they needed testosterone. Some were more believable than others, like Carpenter, who said he had a medical condition, and Sizemore, who said he was recovering from surgery.
But Sanders admitted he did not believe all four of them when they said they didn't know they were breaking the law. For example, Trotter competed as a Mixed Martial Arts fighter on the side and admitted in his interview that he was holding the steroids for his next bout, an act which also violated his license to fight under the Kentucky Boxing and Wrestling Commission.
"I even hate to say this, but I was waiting to try to get where I can train for some fights, use it during that time," Trotter said in a recorded interview obtained by WDRB News, adding that he wanted to be "more athletic."
Peercy already had a DUI while working with state police, and records in the investigation also revealed he'd been prescribed suboxone, a drug known to treat opiate addiction.
"These are tough decisions when you're sitting in that chair," Sanders said. "I had to make a lot of decisions on disciplinary actions. I fired troopers. I gave harsh punishment to troopers. I did what I thought was the right thing to do."
The four troopers received varying suspensions, ranging from 60-180 days: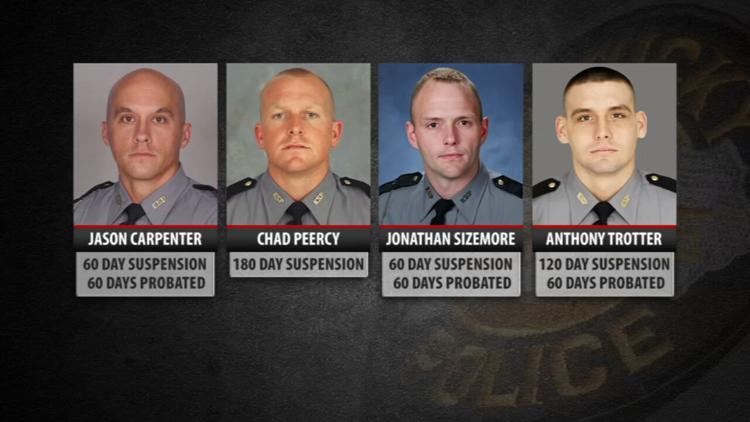 "Steroid use — or abuse, I should say — has been a dirty little secret in law enforcement for a long time" said Payne, who was No. 2 in KSP command behind Sanders. "I mean, to me, no normal, sane person dials 1-800-Jack-me-up or whatever on the internet and then literally takes that for face value and just hammers it into your system with a syringe ... especially not a police officer. I mean, you ought to know better."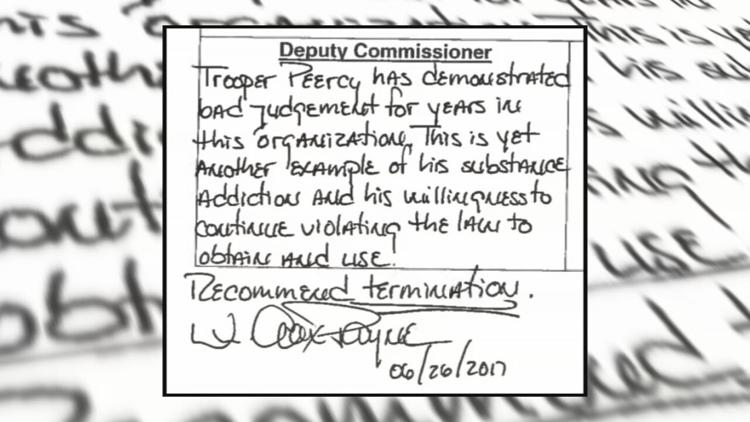 Records show Payne recommended the terminations of Trotter and Peercy. He said he was especially disappointed as Trotter also worked at the state police academy, and Peercy had shown a pattern of poor decision-making yet remained on the Special Response Team (SRT), which is tasked with handling the agency's most complex cases.
"At the end of the day, it's not my decision," Payne said. "When (Sanders) made that decision then ... you got to move on, because there's another one of those black folders waiting for you."
Black Folders And Looking For Loopholes
Payne and Sanders both said KSP keeps internal affairs investigations in black folders. It's reflective of the agency's take on anyone else knowing what's inside of them. This internal investigation was never meant to be made public.
In the conversations between KSP's internal investigators, the four officers are given assurances that what they reveal is confidential. But those same interviews reveal why that's a potential conflict to transparency. In at least one instance, it seems like internal affairs was not investigating but rather working with the trooper in question to come up with a story.
"We're just trying to make sure that you guys did violate the law, and there's not any loopholes or guidelines," the investigator told Sizemore in recordings obtained by WDRB News. "Can you think of anything else that we haven't looked at that would make this legal?"
"No, I'm sorry there's nothing else I have to back this up," Sizemore replied.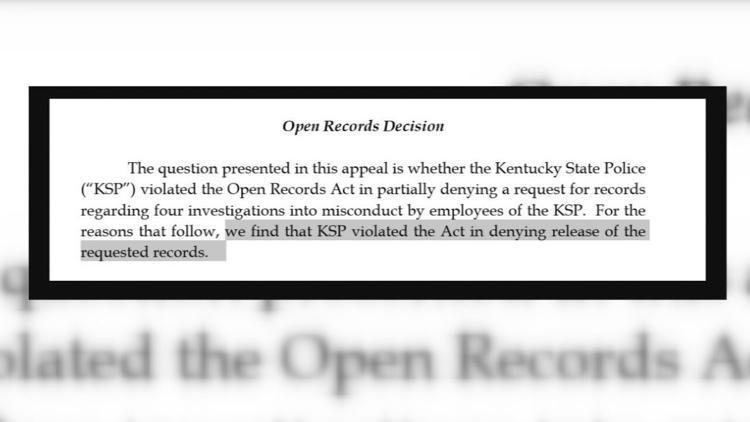 WDRB News started the fact-gathering on this story in 2017 and was met with resistance from the start. KSP denied an open records requests, ignored orders from then-Attorney General Andy Beshear's office to release the files and locked the case up in litigation for more than two years in Franklin Circuit Court.
KSP has a long history of delays, denials and deception in the open records process. A prior WDRB News investigation revealed KSP broke open records laws more than any other Kentucky agency between 2013 and 2018. A review of opinions from the Attorney General's office showed 33 open records act violations by KSP in those five years.
"We didn't do anything different than Louisville, Lexington, Jeffersontown," Sanders said. "All police departments in this community did the same thing as KSP. We release the initial complaint, and then we release the final disposition."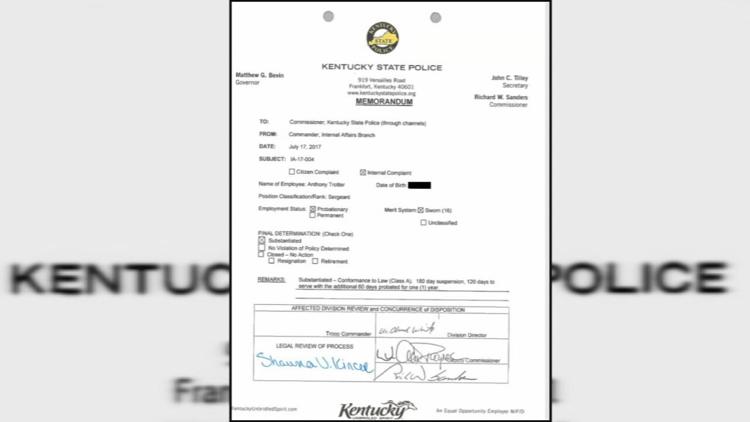 Sanders contends releasing the initial complaint or accusation and the one-page summation fulfilled KSP's legal obligation, neither of which reveal what was uncovered in the internal affairs case. It's similar to releasing the first and last page of a book and expecting the reader to know the entire story. In this instance, what's between the first and last page is nearly 300 other records and three hours of interviews that include the confessions of troopers who violated the law and the evidence to prove it.
It took more than two years to pry out the police secrets from the steroid case, and there are an untold number of internal affairs investigations in KSP hidden from the public in the same way. Payne said internal investigations should be released once they're complete.
"How do you hope to fully gain the public's trust if you keep that hidden," he said. "You can't."
Despite a second chance, officials said Peercy had another KSP violation and quit as he was about to be fired. Carpenter and Sizemore also resigned. Trotter was demoted from sergeant to trooper and remains on the force.
All four troopers have yet to respond to a request for comment.
Sanders left KSP at the end of Gov. Matt Bevin's administration and returned to Jeffersontown for his second stint as police chief.
"The court has said that we have to give (internal investigations) up, and you know what? We're going to give it up," Sanders said. "That doesn't mean I'm going to do that happily."
When asked his response to someone who might question his integrity, Sanders simply said:
"They're wrong."
The state police effort to withhold documents through litigation ultimately costs taxpayers. When WDRB News won its case for the trooper steroid records, the judge ordered KSP to pay more than $10,000 for the station's legal fees.
Taxpayers footed the bill.
Copyright 2020 WDRB Media. All Rights Reserved.