LOUISVILLE, Ky. (WDRB) -- A police chase through several Kentucky counties ended Monday evening with two people shot dead on an Interstate 71 ramp in Oldham County.
Kentucky State Police are expected to release more information about what happened, but investigators have not released many details. WDRB video shot at the scene showed shell casings scattered on the ground. There was a lot of damage to the cars involved, including a police cruiser with its side door bent backwards.
The chase started when Kentucky State Police got a 911 distress call from Gallatin County Monday afternoon. After an alert was issued, the car was spotted in Henry County. KSP tried to pull the vehicle over, but the chase continued down I-71. The driver got off at the Crestwood exit at Highway 329 and tried to get back on the interstate, but police had the ramp blocked.
Police say an officer exchanged gunfire with someone in the vehicle. A man and woman were killed. The man died at the scene, and the woman died at University Hospital. It is not clear whether the officer killed the two people. Investigators also have not explained how the man and woman knew each other.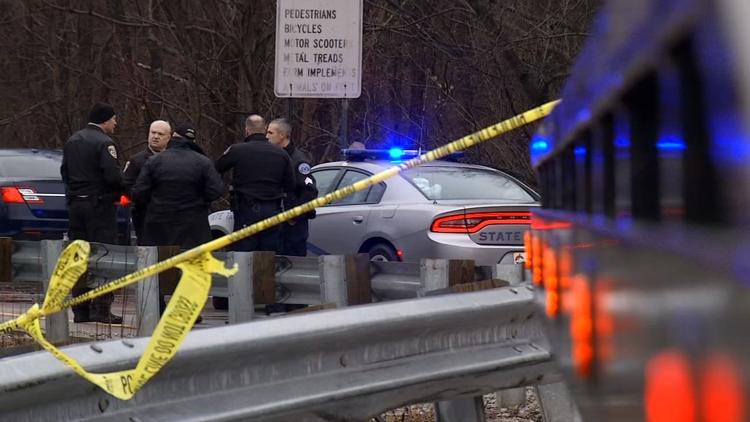 KSP Trooper Steven Dykes said, "neither had identification that we've been able to use on them, so that's currently being investigated to find out who they were and why we're in the situation that we're in."
Kentucky State Police say there is no body camera footage of the incident, since neither KSP or Oldham County Police have body cameras.
Copyright 2019 WDRB Media. All Rights Reserved.