LOUISVILLE, Ky. (WDRB) -- Jefferson County Public Schools has extended meal pickup times at certain locations.
Families of students can now pick up meals between 4 and 6 p.m. at five local high schools, three middle and two elementary schools. The district is making those hours available for families who are working or helping students with in-home learning and cannot pick up meals during regular meal pickup hours of 10 a.m. to 1 p.m.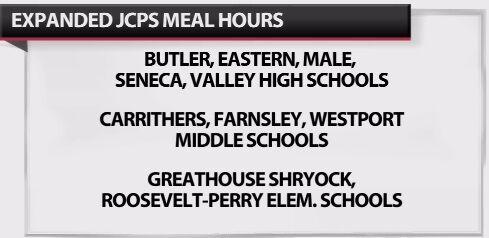 The extended hours are available on Tuesdays and Thursdays at Butler, Eastern, Male, Seneca and Valley high schools; Carrithers, Farnsley and Westport Middle schools; and Grethouse Shyrock and Roosevelt-Perry Elementary schools.
The district is making meals available for anyone 18 and younger. The meal program is offering one breakfast, one lunch and one diner every day.
Copyright 2020 WDRB Media. All Rights Reserved.