LOUISVILLE, Ky. (WDRB) -- Unless the county can get COVID-19 cases under control, the projected Oct. 22 restart date for Jefferson County Public Schools is in jeopardy, Superintendent Marty Pollio said.
The JCPS board in late September voted to extend distance learning because of the pandemic, with the possibility of gradually reopening classrooms starting Oct. 22. However, that plan was dependent on the virus being under control in Jefferson County.
But Kentucky reported a record 6,158 new cases last week, and another 1,159 in the last two days, which already is 247 more than last week at this time.
"Unfortunately we're headed in the wrong direction," Pollio told WDRB News Monday afternoon.
The superintendent said that he is following the state guidance and color-coded incidence rate map, according to which Jefferson County is an orange zone, that indicates "accelerated spread," at 22.6 cases per 100,000 population. That's only 2.4 cases per 100,000 below critical red, or "critical."
"Our cases per 100,000 continue to escalate in Jefferson County and what I think we're seeing is the potential that if we don't turn that around we will be a red county based on the chart that was shared today by Dr. Stack, quite possibly by this Thursday," Pollio said.
The superintendent said that about 15,000 parents have responded to a survey, and about two-thirds are choosing in-person instruction, with one third opting for distance learning. He urged other parents to make their voices heard. You can take the survey by clicking here.
Referendum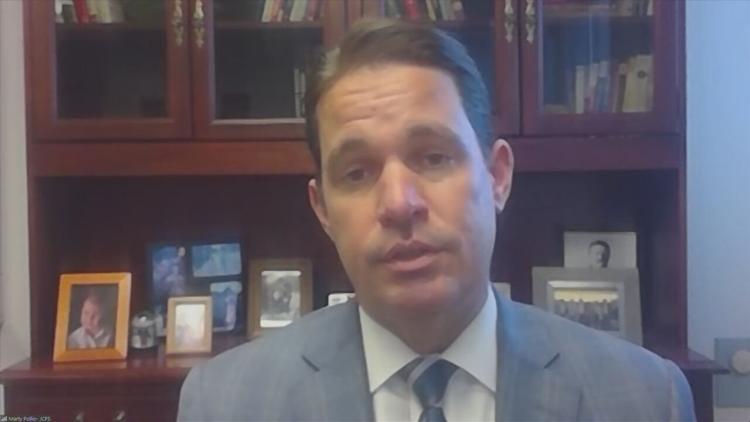 Pollio also said that he understands that in a difficult year people have concerns about paying more taxes for schools, but he emphasized that sooner or later, the community will have to invest in its schools if it wants academic achievements to improve.
Voters in November will vote on a proposed 7 cent property tax increase that is expected to generate an additional $54 million. The district plans to use at least $15 million for new and renovated facilities, $15 million for schools with the highest needs, $12 million for racial equity work and $12 million for more learning time for students.
If voters reject the increase, Pollio said the needs of the students and the needs for new schools will not go away.
"At some point we're going to have to make a community investment if we want to see different outcomes for our children," Pollio said.
"We need to be accountable at JCPS, there is no doubt about it," he said, "but it's a community decision like they've made in Fayette County and like they've made in Oldham County to invest in their children and in their buildings, and we need to do the same thing here."
Related stories:
Copyright 2020 WDRB Media. All Rights Reserved.