LOUISVILLE, Ky. (WDRB) -- A sprawling display of military appreciation is taking shape in Jeffersontown in the form of the city's new Freedom Wall.
The project has been in the works for two years. As it took shape Friday in the form of glass panels etched with tributes to the men and women who serve our country, John Wright, a Vietnam veteran, couldn't help but become emotional.
"It's really exciting to have up before Veterans Day," he said. "It reminds me of marines and other service members I know who didn't come back."
Wright was wounded at war and retired from the Corps with a sense of pride and pain. The Jeffersontown American Legion Post which Wright is a part of had a hand in planning the new wall. 
"It's going to be very emotional for a lot of our veterans to tour this," he said, tearing up.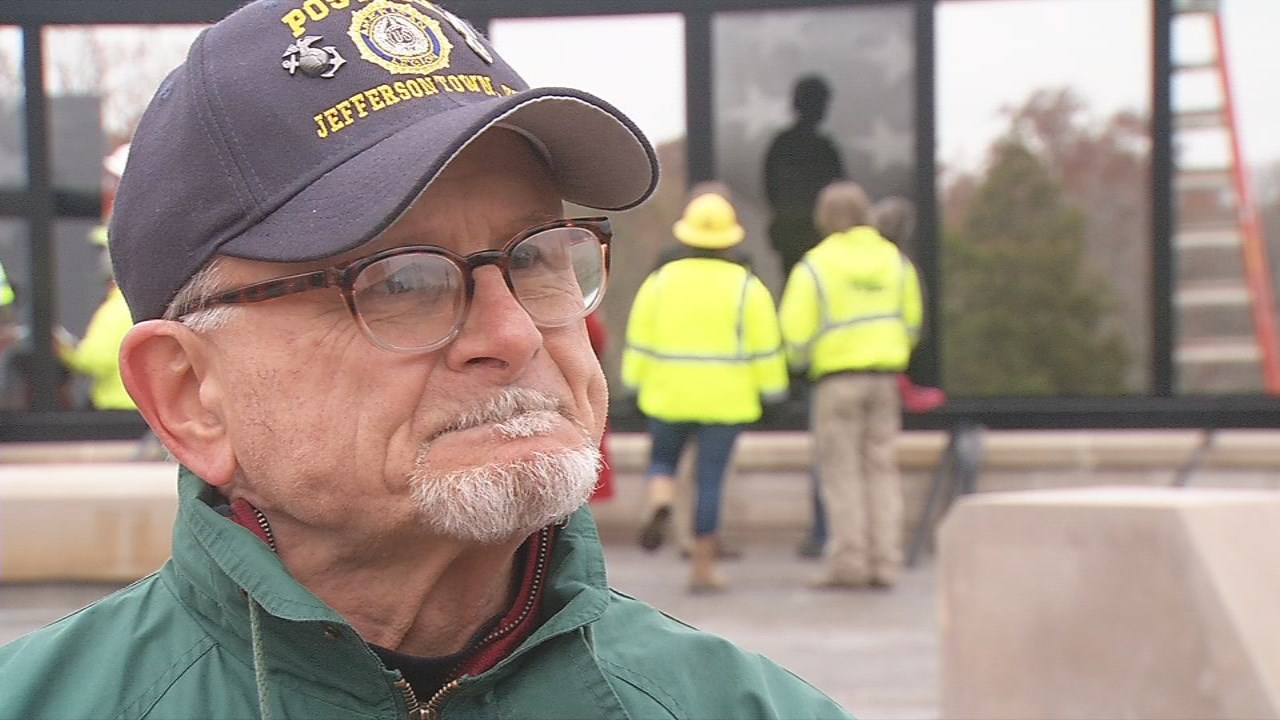 Jeffersontown's Freedom Wall is the signature piece of a revamped Veterans Memorial Park. The 60-foot-long memorial holds 15 laser-etched glass panels honoring all five branches of the United States Military.
"There is a lot of other touches you'll see beyond the wall," Jeffersontown Mayor Bill Dieruf said. "This is a true monument to our veterans ... anywhere from the benches that have 'Courage' and 'Integrity' on them to the Seal of the United States in the center."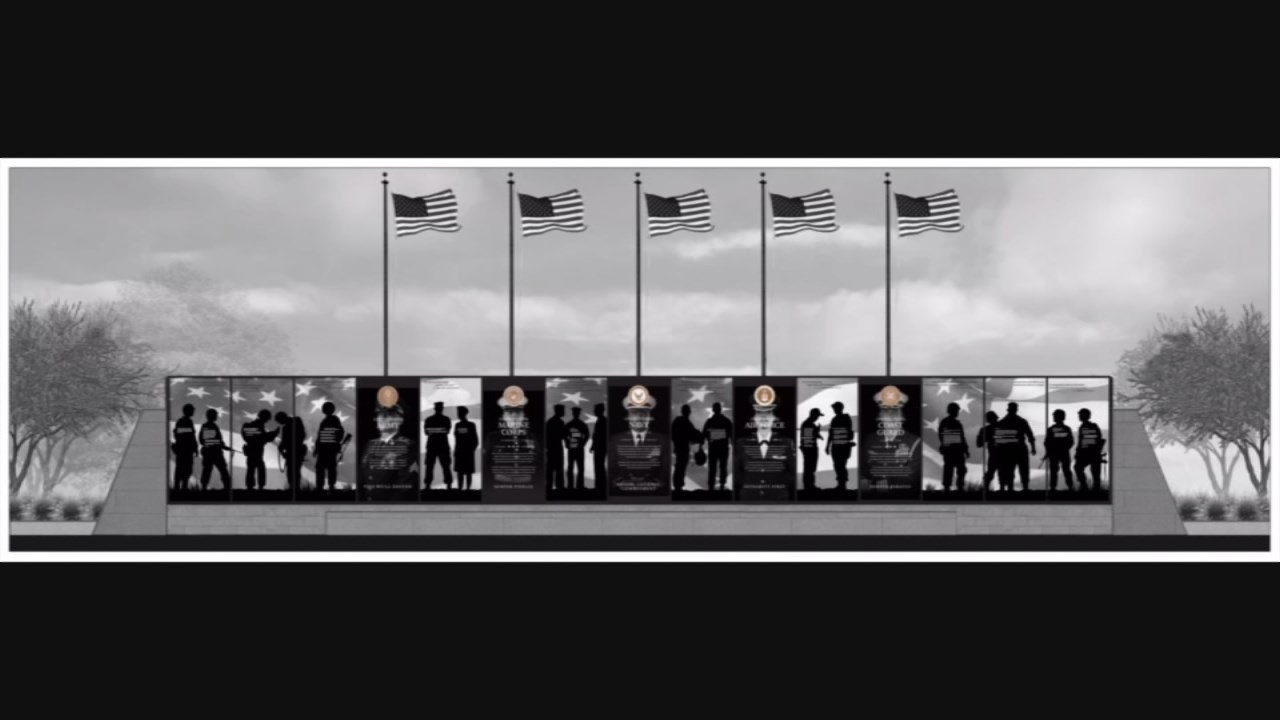 City leaders say crews have been at war with the weather to take the project from concept to completion.
"The glass got here last night," Dieruf said.
Plans are on track for a big public reveal at the city's Veterans Day ceremony on Sunday.
"We wanted the people when they come up here, they feel like, 'That could be me,'" Dieruf said.
Perhaps the most powerful part of this display comes in the form of real letters written from soldiers in combat to loved ones at home. One of them reads: "Mom, I'm not afraid to die for something this is right." Those letters are etched into the glass.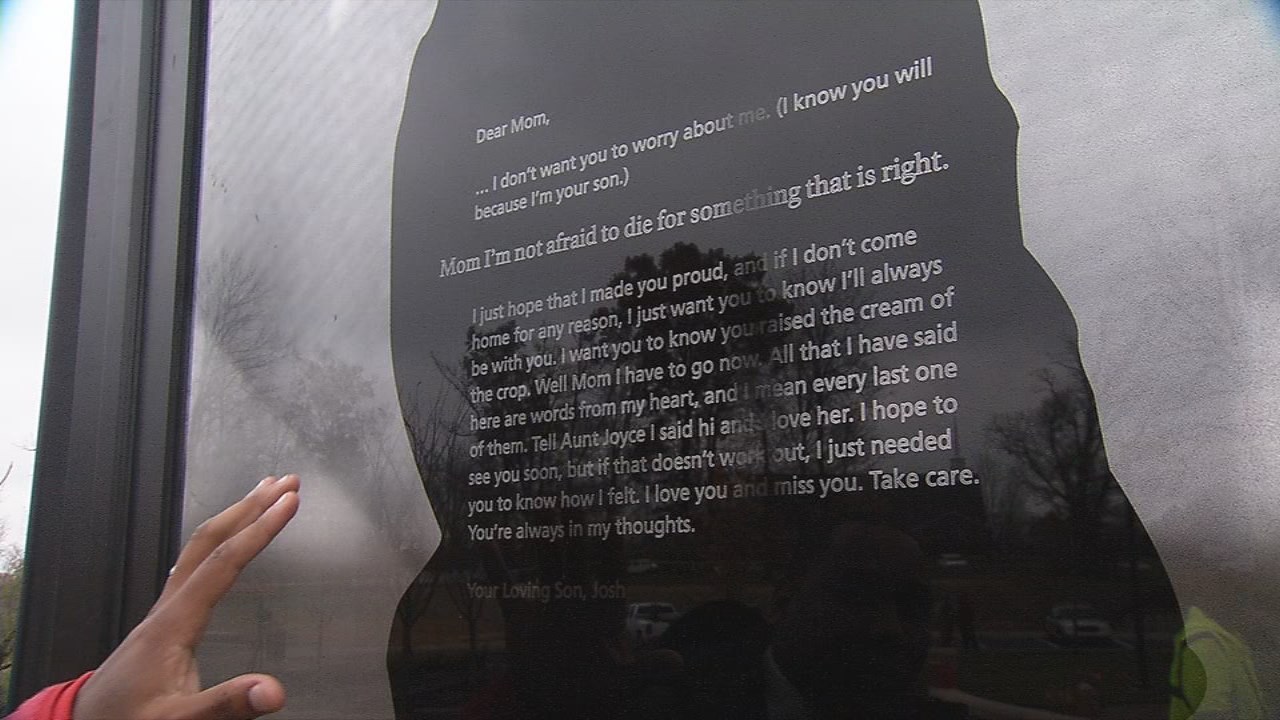 Organizers say they hope the wall generates an emotional response from visitors.
Although it won't be unveiled until Sunday, Wright was there on Friday to watch as it came together. Judging from the reaction of this soldier, the mission of the wall's builders was accomplished.
"It was an honor to serve," Wright said.
The public is invited to attend the grand opening ceremony. It's part of Jeffersontown's 24th annual Veteran's Day Ceremony. Kentucky's Deputy Commissioner of the Department of Veteran Affairs Heather French Henry is slated to give the keynote address. In addition to the program and musical entertainment, food trucks will be on hand. 
The public reveal of the Freedom Wall is set for 4 p.m. Sunday at Veterans Memorial Park, 10707 Taylorsville Road.
Copyright 2018 WDRB Media. All Rights Reserved.